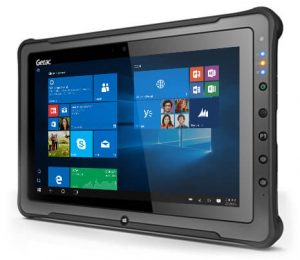 Durability Meets Mobility
Ranging from tactical to medical to wearable, rugged tablets go wherever you do and provide best in class battery life, widescreen displays, industry-leading security, seamless connectivity, and a comfortable grip. Getac offers tablets suited to fit zone 0, critical, or medical environments.
Getac backs their fully rugged tablets with a standard 3 or 5-year bumper to bumper warranty.
Rugged Windows & Android Tablets
Rugged industrial tablet computers are strongly made and capable of withstanding rough handling. The operating conditions specified for a rugged device indicate its level of ruggedness. Operating conditions include operating and storage temperature, maximum operating and storage altitude, and relative humidity. Only Getac manufactures rugged tablets down to the chassis. Several of their tablets have been engineered to survive drops, shocks, rain, vibration, dust, liquid and more.
Industries Served by Rugged Tablets
Rugged tablets can be utilized in a variety of industries including State/Local Government, Education (K-12 and Higher Education), Public Safety (Police, Fire, EMS), Healthcare, Industrial Manufacturing, Energy/Environment, and Transport/Logistics. Our rugged tablets offer several advantages in the field, from enhanced security measures to protect information and prevent attacks to increased computing ability to handle large engineering applications. We also feature both rugged Android and Windows tablets, letting you choose the operating system that makes the most sense for your application. The following list of industries cover the specific applications of rugged devices in more detail:
Agriculture – Collect and analyze soil samples, track livestock with RFID, manage farm inventory, run irrigation control systems and more.
Construction – Run projects from the build site, communicate real-time with central HQ, access blueprints without damaging, run analyses onsite enabling immediate direction and action based on results.
Environmental – Biologists, scientists and environmental consultants: Collect sea ice samples, use GPS data to accelerate triage of oil spill sites, inspect and monitor stormwater assets, etc.
Field Service – Schedule service calls, navigate with GPS, manage team schedules, update work orders, track inventory, enter time onsite, sync field measurements and meter readings in real-time.
Forestry – Cruise timber, navigate using dedicated GPS, map, image, report, and analyze data for wildlife surveying, silviculture, and forest management.
GIS/Mapping – Get more done while in the field. Gather and analyze GIS data, create maps, and communicate real-time even from remote locations.
Healthcare – Hospital staff, with patients, in the lab: Efficiently and securely collect, share, and monitor patient data. Move quickly, not worrying about shakes, vibrations, drops, shocks, cart crashes. Decontaminate and sterilize devices from patient to patient.
Industrial – Send data wirelessly in real-time, create reports and sync automatically with office technology, integrate with onsite machinery for status tracking, etc.
Logistics – Inventory, distribution, and supply chain management.
Manufacturing – Inspection, quality and inventory control, machinery maintenance, order tracking.
Mining – Streamline data management and operations: timekeeping, vehicle tracking, maintenance logging, supplies deliveries,real-time communications with those off-site. Perform in the face of vibrations, dust, moisture, and temperature fluctuations.
Features of Our Rugged Industrial Tablets
Getac tablets offer several integrated features, helping them adapt to suit your needs:
MIL-STD 810G and IP65 certification
Hot-swappable batteries
Sunlight readable display
Large display options
Latest Intel® Core™ processors for superior speed
Detachable keyboards and multifunctional hard handles
RFID / magnetic strip readers
Industry leading bumper to bumper warranty
The Affinity Advantage
Affinity offers a full range of rugged computing and mobility solutions, including rugged devices, mounting solutions, rugged accessories. We partner with some of the best brands in the industry, such as Getac, Gamber Johnson, Havis, and Printek for premium quality hardware solutions that fit the needs of your organization. Every organization has its own unique characteristics when it comes to the use and implementation of technology. Affinity's team of technology consultants will work with you to determine the best solution for your organization's needs.