Getac V110 Fully Rugged 11.6″ Convertible
Even Faster. More Secure. As Thin and Versatile as Ever!
The Getac V110 fully rugged convertible notebook is the best convertible we've ever made: It features best-in-class performance, industry-leading security, a large 11.6" widescreen display and a design that is as thin and light as ever – at 4.36 lbs. light and 1.26" thin.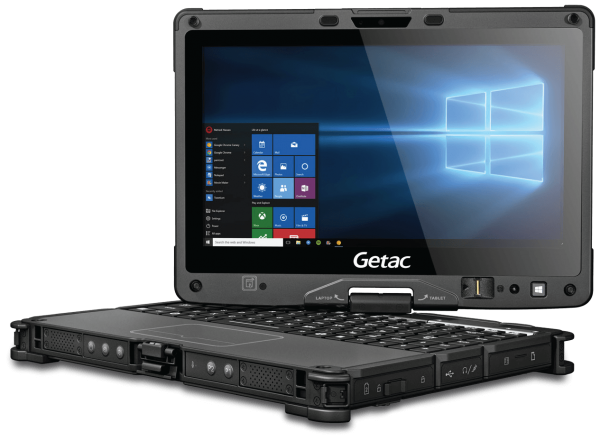 Get a Quote for the Getac V110 Fully Rugged 11.6″ Convertible
Uncompromised Performance
The V110 is built to perform, featuring a powerful 10th generation Intel® Core™ processor, flash storage and responsive graphics. It's the fastest rugged laptop we've ever built.
10th Gen Intel® Core™ i7 vPro™
The V110 can be configured with either the Intel® Comet Lake Core™ i5 or i7 processor, delivering an amazing level of CPU performance.
Intel UHD Graphics 620
Getac's V110 features the new Intel® UHD Graphics 620 providing an outstanding level of responsiveness and frame rate for both 3D graphics and video.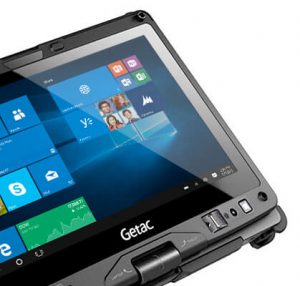 Brilliant 11.6" Large Display
The V110 features a large 11.6" display that utilizes LumiBond® 2.0 technology for incredible clarity both indoors and outside in direct sunlight. The 11.6" widescreen display is ideally suited providing plenty of real estate to run Windows and your apps on.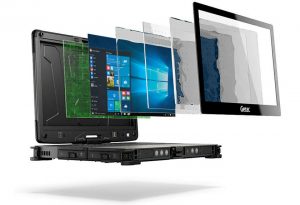 LumiBond® 2.0: Better, Brighter, Stronger
The V110 takes advantage of our revolutionary LumiBond 2.0 touchscreen technology, which bonds the display glass with the touch panel and LCD, creating a single pane that is more durable and readable, and offers better contrast and more crisp colors than any other rugged laptop display. It features four advanced touch modes (Touch/Rain, Glove or Pen mode, plus an optional Digitizer mode), and the included hard-tip stylus enables you to capture signatures and take more precise notes on drawings, maps, or forms.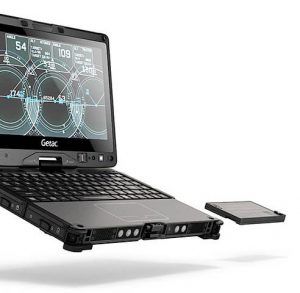 Dual Battery for Limitless Power
The V110's unique, hot-swappable dual-battery design allows for potentially infinite, uninterrupted battery life. This enables you to remove one of the two rechargeable batteries and replace it with a fresh battery without ever shutting down apps or your Windows OS.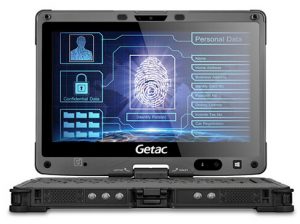 Security Redefined
Experience an industry-leading suite of security features, including multi-factor authentication, to protect against malicious threats and intrusions.
Absolute DDS
This optional protective measure disables your V110 if it detects an unauthorized or compromised entry.
Trusted Platform Module 2.0
The V110 features TPM 2.0 – a powerful anti-tampering device that checks for any signs of intrusion during system boot-up.
NFC/RFID Reader
Authenticate your credentials via Near Field or Radio Frequency transmission.
Smart Card Reader
The V110 supports Smart Cards for secure identity verification.
Fingerprint Scanner
Verify your ID with ease and accuracy by simply swiping your finger.
Windows 10 Multi-Factor Authentication
The V110's hardware fully supports Microsoft's latest authentication tools, including Windows Hello, Microsoft Passport and Credential Guard.
Incomparable Connectivity
Advanced 4G LTE
The V110 can be configured with 4G LTE WWAN and features an 8-band 3D antenna for blazing fast download and upload speeds with fewer dropouts.
Dedicated GPS
The V110's dedicated GPS offers 2x search capacity, faster location positioning and improved accuracy over competitors' embedded GPS designs.
802.11ac WiFi
The V110 features 802.11ac WiFi, the latest and fastest in wireless connectivity technology – up to 3x faster compared to the competition's 802.11n WiFi.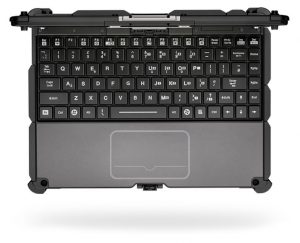 Full-Size Keyboard
The V110 comes with a full-size, waterproof membrane keyboard. Its 88 standard-sized, island-style independent keys provide an unmatched premium feel and increased durability. The V110's keyboard is a full 56% larger than the Toughbook CF-19's keyboard, so you can type the way you're used to typing. And, the red backlight allows you to type in the dimmest conditions without silhouetting yourself. It also reduces eyestrain, which helps reduce fatigue.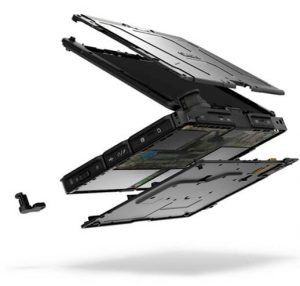 Built To SurviveTM
The V110 fully rugged convertible has been built using the highest quality materials to make it unflinchingly resilient. The V110's main chassis structure is precision cast using Magnesium Alloy, an incredibly strong structural metal that also happens to be one of the lightest in the world for its strength. We combined that with an advanced rugged polymer in areas of less impact and rubberized absorption polymer at the main points of contact.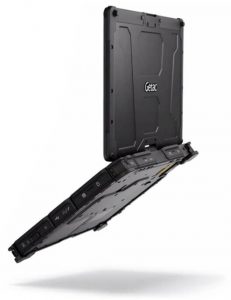 Less Downtime When It's Crunch Time
It doesn't happen often, but if a V110 ever needs to be serviced, Getac offers unmatched coverage that will ensure you get your computer fixed and back on the job fast.
Bumper-To-Bumper Warranty
Accidents happen. Only Getac offers bumper-to-bumper coverage standard on every V110 rugged convertible.1
Serviced By Fedex TechConnect
The V110 is serviced by FedEx TechConnect – faster, more convenient and more reliable service so you can get back to doing what you do best. It's Service Delivered℠.
3-Year Bumper-to-Bumper Warranty
Nothing says quality like a manufacturer standing behind their product. We've designed the V110 from the inside out to survive drops, shocks, spills, vibration and more. We're confident in our quality and that's why the rugged V110 comes standard with a 3-Year bumper-to-bumper warranty. It's the peace-of-mind protection of knowing you're covered.¹
Covers Everything
Getac's warranty includes all major system components.
Accidental Damage
Getac's warranty includes coverage for accidental acts and exposure to environmental conditions.
Genuine Parts
Getac's warranty repairs are carried out by expert technicians using Getac original production parts.
1 V110 comes standard with a 3 year Bumper-to-Bumper warranty. For full details of the warranty protection, see the terms and conditions.
Operating System

Windows 10 Pro
Windows 11 Pro

Mobile Computing Platform

Intel® Core™ i5-10210U Processor 1.6GHz
Max. 4.2GHz with Intel® Turbo Boost Technology
– 6MB Intel® Smart Cache

Platform options:
Intel® Core™ i5-10310U vPro™ Processor 1.7GHz
Max. 4.4GHz with Intel® Turbo Boost Technology
– 6MB Intel® Smart Cache

Intel® Core™ i7-10510U Processor 1.8GHz
Max. 4.9GHz with Intel® Turbo Boost Technology
– 8MB Intel® Smart Cache

Intel® Core™ i7-10610U vPro™ Processor 1.8GHz
Max. 4.9GHz with Intel® Turbo Boost Technology
– 8MB Intel® Smart Cache

VGA Controller

Intel® UHD Graphics

Display

11.6″ IPS TFT LCD FHD (1920 x 1080)
Protection film
800 nits LumiBond® display with Getac sunlight readable technology
Capacitive multi-touch screen

Storage & Memory

8GB DDR4
Optional: 16GB / 32GB / 64GB DDR4

256GB PCIe NVMe SSD
Optional: 512GB / 1TB SSD PCIe NVMe SSD

Keyboard

LED backlit membrane keyboard
Optional: Rubber keyboard
Power button
5 tablet programmable buttons

Pointing Device

Touchscreen
– Capacitive multi-touch screen
– Optional: Dual mode touchscreen (multi-touch and digitizer)

Touchpad
– Glide touchpad with left-click and right-click buttons

Expansion Slots

Smart card reader x 1 i
Optional: 1D/2D imager barcode reader i

I/O Interface

FHD webcam x 1 ii
Audio in/out combo x 1
DC in Jack x 1
USB 3.2 Gen 2 Type-C x 1
USB 3.2 Gen 2 Type-A x 2
LAN (RJ45) x 1
HDMI 1.4 x 1
Serial port (9-pin; D-sub) x 1
Docking connector x 1
Optional: SIM card slot x 1 (Mini-SIM, 2FF)
Optional: Windows Hello face-authentication camera (front-facing) x 1 ii
Optional: RF antenna pass-through for GPS, WWAN and WLAN
Optional: 8M pixels auto focus rear camera x 1

Communication Interface

10/100/1000 base-T Ethernet
Intel® Wi-Fi 6 AX200, 802.11ax
Bluetooth (v5.2) iii
Optional: Dedicated GPS
Optional: 4G LTE mobile broadband iv

Security Features

TPM 2.0
Kensington lock
Optional: Intel® vPro™ Technology
Optional: HF RFID reader and Smart card reader v
Optional: Fingerprint reader

Power

AC adapter (65W, 100-240VAC, 50/60Hz)
Li-ion battery (11.1V, typical 2100mAh; min. 2040mAh) x 2
LifeSupport™ battery swappable technology

Dimension (W x D x H) & Weigh

313 x 238 x 39mm (12.32″ x 9.37″ x 1.53″)
2.1kg (4.63lbs) vi

Rugged Features

MIL-STD-810H certified
IP65 certified
MIL-STD-461G certified vii
Vibration & 4ft (1.2m) drop resistant viii
Optional: ANSI/UL 121201, CSA C22.2 NO. 213 (Class I, Division 2, Groups A, B, C, D) ix
Optional: Salt fog certified

Environmental Specifications

Temperature x:
– Operating: -29°C to 63°C / -20°F to 145°F
– Storage: -51°C to 71°C / -60°F to 160°F
Humidity:
– 95% RH, non-condensing

Pre-installed software

Getac Utility
Getac Camera
Getac Geolocation
Getac Barcode Manager xi
Optional: Absolute Persistence®

Optional software

Getac Driving Safety Utility
Getac Device Monitoring System (GDMS)
Getac VGPS Utility xii

Accessories

Battery (11.1V, typical 2100mAh; min. 2040mAh)
AC adapter (65W, 100-240VAC)
Capacitive stylus with tether

Optional:
Carry bag
Battery (11.1V, typical 2100mAh; min. 2040mAh)
Multi-Bay charger (Dual-Bay)
Multi-Bay charger (Eight-Bay)
AC adapter (65W, 100-240VAC)
Office dock AC adapter (90W, 100-240VAC)
MIL-STD-461 AC adapter (90W, 100-240VAC)
DC-DC vehicle adapter (120W, 11-32VDC)
Digitizer pen
Capacitive stylus with tether
Protection film
Hard handle
X strap
Shoulder strap (2-point)
Vehicle cradle xiii
Vehicle dock xiii
Office dock
Spare SSD kit
100W Type-C adapter
Getac rugged keyboard

Bumper-to-Bumper warranty

Accidents can take your equipment out of service when you least expect it, especially in a rugged environment, which can cause costly equipment downtime.
That is why Getac has introduced accidental damage as standard under our Bumper-to-Bumper warranty, to help minimize your enterprise IT costs.
Bumper-to-Bumper is your hassle-free guarantee. That means you can depend on us to have your unit back in service within days.

Standard
3 years Bumper-to-Bumper
Smart card reader, Optional 1D/2D imager barcode reader are mutually exclusive options.
FHD webcam and optional Windows Hello face-authentication camera (front-facing) are mutually exclusive options.
Bluetooth performance and connectable distance may be subject to interference with the environments and performance on client devices, users may be able to reduce effects of interference by minimizing the number of active Bluetooth wireless devices that is operating in the area.
Units with 4G LTE option come with an embedded SIM card slot.
13.56MHz contactless HF RFID/NFC reader (ISO 15693, 14443 A/B, Mifare and FeliCa™ compliant).
Weight and dimensions vary from configurations and optional accessories.
MIL-STD-461 90W AC adapter sold separately.
Drop test results vary from configurations and optional accessories.
Available with limited configurations and environment conditions.
Tested by an independent third-party test lab following MIL-STD-810H.
Available when barcode reader option is selected.
Models require either embedded or standalone GPS module.
Gamber Johnson and Havis vehicle docks are e-mark certified.
Talk through your purchase with an expert
Need a hand in selecting the right product for your business? Schedule an appointment with me. We'll discuss the challenges you face, what you're looking for, and the laptop or tablet that would best suit your needs.
LEARN HOW our hardware and software solutions can increase sales, compliance, profitability, and quality.