Getac K120 Fully Rugged 12.5″ Tablet
Performance Powered By Versatility.
The K120 is a new class of tablet, engineered with versatility in mind. Multiple operation modes, a robust 12.5″ display and versatile accessory options make the tablet the perfect fit for extensive use in the most extreme environmental conditions.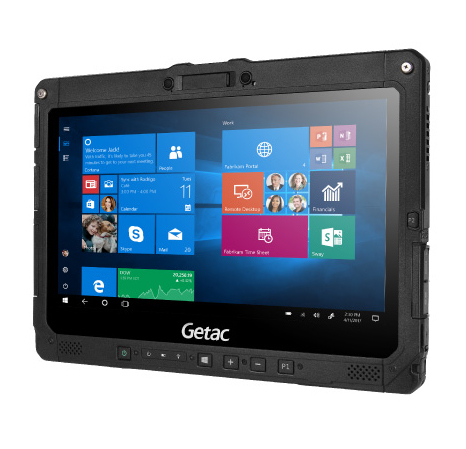 Get a Quote for the Getac K120 Fully Rugged 12.5″ Tablet
Versatility in the Details
From its multifunctional tablet hard handle and attachable full-size backlit keyboard to a wide variety of straps and harnesses, the K120 can adapt to virtually any environment, both in the field and indoors.
Adaptable and Powerful
With cutting-edge performance powered by the 8th Generation Intel® Core™ Processor, the new K120 excels as a multitasker. Increase productivity with a seamlessly integrated display, giving you an edge in critical environments.
Productivity in Full Display
Revolutionary LumiBond® 2.0 touchscreen technology bonds the display glass with the touch panel and LCD. The K120 delivers 1200 nits of brightness in a 12.5" FHD radiant display for improved sunlight readability. Generous screen real estate can be navigated with Multiple Touch Modes ranging from Rain, Glove and Pen Touch modes, and an optional Digitizer mode that allows you to access more information with ease.
Double Time, Not Downtime
The tablet's battery delivers full-shift productivity to match your needs in the field. You have the option to incorporate High Capacity Battery add-ons to double the system's runtime for potentially infinite battery life. Hot-swapping technology is also included for quick and secure battery replacement without the need to power down. All battery packs fit into their compartments without the need of additional covers and are firmly secured by a double-locking mechanism.
Uncompromised Security
Keep your data safe with multi-level hardware security options, including an RFID reader, smart card reader, fingerprint scanner, TPM 2.0 artifact storage and Windows Hello facial recognition. The tablet is also fitted with a user-replaceable SSD for portable and flexible data management.
Windows 10 Security
The K120 fully supports Microsoft's latest authentication tools, including Windows Hello and Microsoft Passport.
Trusted Platform Module 2.0
The K120 features TPM 2.0 – a powerful anti-tampering device that checks for any signs of intrusion during system boot-up.
Exceptionally Rugged
The new K120 is MIL-STD 810G and IP65 certified to survive under operating temperatures ranging from -29oC to 63oC, and can sustain up to a 6-foot drop while in operation, definitively proving its exceptional ruggedness.
Beyond Expectations.
It doesn't happen often, but if a K120 ever needs to be serviced, Getac offers unmatched coverage that will ensure you get your computer fixed and back on the job fast.
Bumper-To-Bumper Warranty.
Accidents happen. Only Getac offers bumper-to-bumper coverage standard on every K120 rugged tablet.1
Serviced By Fedex TechConnect.
The K120 is serviced by FedEx TechConnect – faster, more convenient and more reliable service so you can get back to doing what you do best. It's Service Delivered℠.
Ruggedness
MIL-STD 810G and IP65 certified
MIL-STD 461G ready1
Optional ANSI/ISA 12.12.01
Vibration & drop resistant
e-Mark certified for vehicle usage
Operating System
Windows® 10 Professional, 64 bit

CPU
Intel® CoreTM i7-8650U vPro 1.9 to 4.2GHz processor
8MB Intel Smart Cache
Intel Core i7-8550U 1.8 to 4.0GHz processor
8MB Intel Smart Cache
Intel Core i5-8350U vPro 1.7 to 3.6GHz processor
6MB Intel Smart Cache
Intel Core i5-8250U 1.6 to 3.4GHz processor
6MB Intel Smart Cache
Memory
4GB DDR4 expandable to 32GB
Storage
AES SSD 128GB / 256GB / 512GB / 1TB†
VGA Controller
Intel UHD Graphics 620
Display
12.5" IPS TFT LCD FHD (1920 x 1080) 1200 nits LumiBondTM 2.0 sunlight readable LED display with capacitive 10-point multi-touch technology and hard-tip stylus
Optional digitizer
Optional Detachable Keyboard & Pointing Device
Backlit mechanical keyboard
Glide touchpad with left & right-click buttons
Expansion Slot Tablet
Optional 1D/2D imager barcode reader
Optional Serial port, or USB 2.0 port
Communications
10/100/1000 base-T Ethernet
Intel Dual Band Wireless-AC 8265 (802.11ac) Bluetooth (v4.2)
Optional dedicated GPS
Optional 4G LTE mobile broadband
Security
Intel vProTM Technology (per CPU options)
TPM 2.0
Optional smart card reader, fingerprint reader, or HF RFID reader
Cable lock slot
NIST BIOS compliant
Optional Absolute™ DDS software
Power
AC Adapter (65W, 100-240VAC, 50/60Hz)
Li-Ion smart battery (11.1V, 2100mAh) x 2
Optional high capacity battery (14.4V, 3450mAh) x 2
Dimension and Weight
TABLET:
12.97" x 9.37" x 0.94" (329.5 x 238 x 24mm)
3.96 lbs (1.8 kg)
TABLET + OPTIONAL KEYBOARD BASE:
13.4" x 12.1" x 1.85" (340.5 x 307.5 x 47mm ) 7.16 lbs (3.25 kg)
OPTIONAL HIGH CAPACITY BATTERIES:
(incremental over standard)
0.43" (11mm)
0.44 lbs (0.20 kg)††
Temperature
Operating Temp:
-20°F to 145°F / -29°C to 63°C
Storage Temp:
-60°F to 160°F / -51°C to 71°C Humidity: 95% RH, non-condensing
I/O Interfaces Tablet
FHD webcam x 1 / Windows Hello Webcam (option)
8M pixels auto focus rear camera x 1
Headphone out / mic-in combo x 1
DC in Jack x 1
USB 3.0 Type-A x 1
USB 3.1 Gen 1 Type-C x 1
Giga LAN (RJ-45) x 1
HDMI x 1
MicroSD Slot x 1
Docking connector (16-pin) x 2
Optional RF antenna pass-through for GPS, WLAN & WWAN
I/O Interfaces Keyboard
DC in Jack x 1
USB 3.0 Type-A x 3
Giga LAN (RJ-45) x 1
HDMI x 1
Serial port x 1
SDXC Slot x 1
VGA x 1
Docking connector (16-pin) x 2
Optional RF antenna pass-through for GPS, WLAN & WWAN
Warranty
3 Year bumper-to-bumper warranty standard‡
Specification subject to change without notice.
* Requires MIL-STD 461G 150W AC Adapter sold separately.
** For storage, 1GB = 1 billion bytes; actual formatted capacity less.
† Weight varies by configuration and manufacturing process.
†† Industry's best 5 year bumper-to-bumper limited warranty standard. For warranty terms and conditions visit www.getac.com

Talk through your purchase with an expert
Need a hand in selecting the right product for your business? Schedule an appointment with me. We'll discuss the challenges you face, what you're looking for, and the laptop or tablet that would best suit your needs.