Getac F110 Fully Rugged 11.6″ Tablet
Maximum Speed and Security. Just the Right Size.
The award-winning F110 is a true revolution in rugged tablet computing. The F110 combines best-in-class performance, industry-leading security, a large 11.6" widescreen display and a thin and light design that redefines rugged mobility.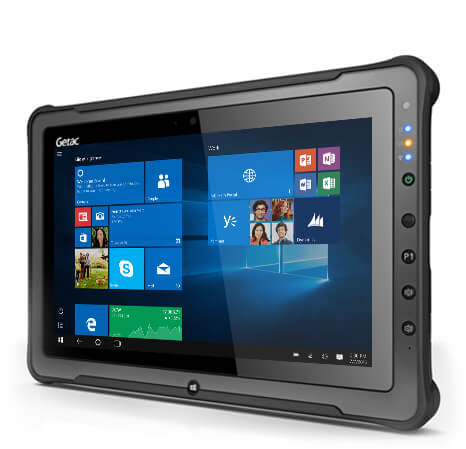 Get a Quote for the Getac F110 Fully Rugged 11.6″ Tablet
Thin and Light
Designed to be about the size of a typical piece of paper, the new F110 rugged tablet breaks new ground with its large 11.6" display, 7th generation processors, amazing graphics and dual batteries. It's the thinnest and lightest fully rugged tablet we've ever built running Windows OS.
7th Gen Intel® Core™ vPro™
The F110 can be configured with either the latest Intel® Core™ i7 or i5 vPro processor, delivering an amazing level of CPU performance.
Intel HD Graphics 620
Getac's F110 features the new Intel® HD Graphics 620 providing an unparalleled level of responsiveness and frame rate for both 3D graphics and video.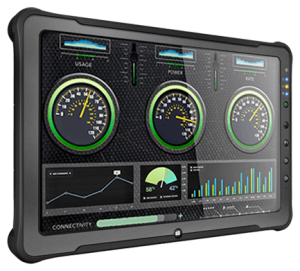 Brilliant 11.6" Large HD Display
Most rugged tablets choose either a large display or a compact design. We chose both. With a large 11.6" widescreen display, the F110 is just the right size, providing plenty of real estate to run Windows and your apps on.
LumiBond® 2.0: Better, Brighter, Stronger
The F110 takes advantage of our revolutionary LumiBond 2.0 touchscreen technology, which bonds the display glass with the touch panel and LCD, creating a single pane that is more durable and readable. It features four advanced touch modes (Touch/Rain, Glove or Pen mode, plus an optional Digitizer mode), and the included hard-tip stylus enables you to capture signatures and take more precise notes on drawings, maps, or forms.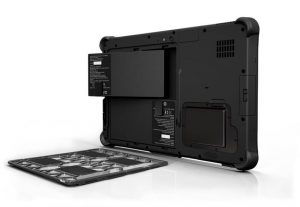 Dual Battery for Limitless Power
One of the best features of the F110 is one of the simplest. Instead of one single removable battery, we built the F110 to have two hot-swappable batteries for potentially infinite battery life. This allows you to remove one of the two rechargeable batteries and replace it with a fresh battery without ever shutting down.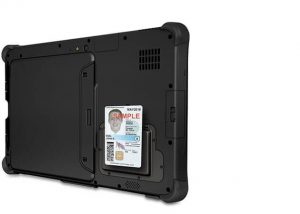 Security Redefined
Experience a robust suite of security features, including multi-factor authentication, to protect against malicious threats and intrusions.
Trusted Platform Module 2.0
The F110 features TPM 2.0 – a powerful anti-tampering device that checks for any signs of intrusion during system boot-up.
Absolute DDS
This optional protective measure disables your F110 if it detects an unauthorized or compromised entry.
OPAL 2.0 SSD
With advanced hardware-based self-encryption technology, confidential data stored in the drive is protected from unauthorized access.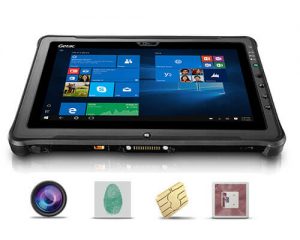 Windows 10 Security
The F110 fully supports Microsoft's latest authentication tools, including Windows Hello, Microsoft Passport and Credential Guard. Logging in is quick and easy with an optional IR camera, fingerprint reader, smart card reader or dual frequency (LF/HF) NFC/RFID.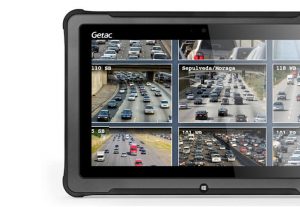 Advanced 4G LTE
The F110 can be configured with 4G LTE WWAN and features an 8-band 3D antenna for blazing fast download and upload speeds, with fewer dropouts.
Tri-Pass Through
For vehicle deployments, the F110 can be configured with pass-through antenna ports allowing you to simultaneously connect high-gain GPS, WWAN and WLAN roof mounted antennas.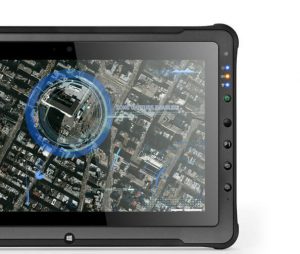 Dedicated GPS
The F110's optional dedicated GPS offers twice the search capacity, faster location positioning and improved accuracy.
802.11ac WiFi
The F110 features 802.11ac WiFi, the latest and fastest in wireless connectivity technology.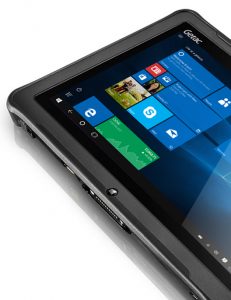 Less Downtime When It's Crunch Time
It doesn't happen often, but if a F110 ever needs to be serviced, Getac offers unmatched coverage that will ensure you get your computer fixed and back on the job fast.
Bumper-To-Bumper Warranty
Accidents happen. Only Getac offers bumper-to-bumper coverage standard on every F110 rugged tablet.1
Serviced By Fedex TechConnect
The F110 is serviced by FedEx TechConnect – faster, more convenient and more reliable service so you can get back to doing what you do best. It's Service Delivered℠.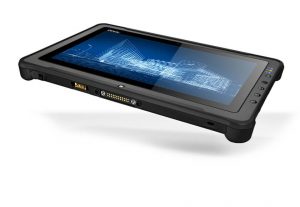 Built To Survive™
Only Getac manufacturers rugged tablets down to the chassis. Engineered to protect the computer against drops, shocks, spills, vibration, dust, liquid and more, the F110 has been independently tested and certified to MIL-STD-810G, IP65 and MIL-STD-461G standards.
3-Year Bumper-to-Bumper Warranty
Nothing says quality like a manufacturer standing behind their product. We've designed the F110 from the inside out to survive drops, shocks, spills, vibration and more. We're confident in our quality and that's why the rugged F110 comes standard with a 3-Year bumper-to-bumper warranty. It's the peace-of-mind protection of knowing you're covered.1
Covers Everything
Getac's warranty includes all major system components.
Accidental Damage
Getac's warranty includes coverage for accidental acts and exposure to environmental conditions.
Genuine Parts
Getac's warranty repairs are carried out by expert technicians using Getac original production parts.
1 F110 comes standard with a 3 year Bumper-to-Bumper warranty. For full details of the warranty protection, see the terms and conditions.
Ruggedness
MIL-STD 810G and IP65 certified
MIL-STD 461F ready2
Optional ANSI/ISA 12.12.01
Vibration & drop resistant
Operating System
Windows® 10 Pro
CPU
Intel® Core i7-7600U vProTM 2.8GHz processor with Turbo Boost Technology up to 3.9GHz
4MB Intel Smart Cache

Intel® Core i7-7500U 2.7GHz processor with Turbo Boost Technology up to 3.5GHz
4MB Intel Smart Cache

Intel® Core i7-7300U vPro 2.6GHz processor with Turbo Boost Technology up to 3.5GHz
4MB Intel Smart Cache

Intel® Core i5-7300U 2.6GHz processor with Turbo Boost Technology up to 3.5GHz
3MB Intel Smart Cache

Intel® Core i5-7200U 2.5GHz processor with Turbo Boost Technology up to 3.1GHz
3MB Intel Smart Cache
Memory
4GB DDR4 expandable to 16GB3
Storage
Solid State OPAL 2.0 128GB / 256GB / 512GB†
VGA Controller
Intel HD Graphics 620
Display
11.6" IPS HD (1366x768) 800 NITs
LumiBond® 2.0 sunlight readable display with multi-touch technology
Optional digitizer
Expansion Slot Options4
Optional 1D/2D imager barcode reader; or
RS232 Port; or
10/100/1000 base-T Ethernet; or
MicroSD slot; or
USB 2.0 port; or
RS232 Port + 10/100/1000 base-T Ethernet
Add-on Modules
Optional magnetic stripe card reader
Webcam
Optional FHD webcam x 1; or
Optional IR webcam x 1
Optional 8MP auto focus camera
Security
Intel vProTM Technology (per CPU options)
TPM 2.0
Cable lock slot
NIST BIOS compliant
Optional IR webcam
Optional LF/HF RFID reader
Optional fingerprint reader
Optional smart card reader
Optional Absolute™ DDS software
Optional HDMI-in + smart card reader
Communications
Intel Dual Band Wireless-AC 8265, 802.11ac Bluetooth (v4.2)
Optional dedicated GPS
Optional 10/100/1000 base-T Ethernet (occupies expansion slot)
Optional 4G LTE multi-carrier mobile broadband with CA1
Keyboard
Six tablet buttons: Power, Windows, Programmable, Camera Capture / Barcode Reader Trigger, Volume Up & Volume Down
Power
AC Adapter (65W, 100-240VAC, 50/60Hz)
Hot swappable Dual Li-Ion battery (2160mAH) x 2
(up to 12 hours of battery life)5
Dimensions & Weight
12.4" x 8.15" x 0.96" (314 x 207 x 24.5mm)
3.08lbs (1.39kg)††
Temperature
Operating Temp:
-5.8° F to 140° F / -21°C to 60°C

Storage Temp:
-60°F to 160°F / -51.1°C to 71°C

Humidity:
95% RH, non-condensing
I/O Interface
DC in x 1
USB 3.0 x 1
Docking port x 1
Headphone out/Mic-in Combo x 1
HDMI x 1
Optional HDMI-in x 1 (w/smart card reader)
Optional RF antenna pass-through for GPS, WLAN and WWAN
Warranty
3 Year bumper-to-bumper warranty standard‡
Specification subject to change without notice.
1 Data plan required. Cellular data is available in the US on Verizon Wireless and AT&T networks. LTE is available in select markets. Check with your carrier for details. 4G LTE configuration must be ordered at time of purchase.
2 Requires MIL-STD 461F 90W AC Adapter sold separately.
3 Computers configured with a 32-bit operating system can address up to 3GB of system memory. Only computers configured with a 64-bit operating system can address 4 GB or more of system memory.
4 Expansion slot factory installed and limited to one option. Subject to minimum purchase requirements.
5 Battery life testing conducted under BatteryMark 4.0.1. Battery performance will vary based on software applications, wireless settings, power management settings, LCD brightness, customized modules and environmental conditions. As with all batteries, maximum capacity decreases with time and use and may eventually need to be replaced by a Getac service provider. Battery life and charge cycles vary by use and settings.
† For storage, 1GB = 1 billion bytes; actual formatted capacity less.
†† Weight varies by configuration and manufacturing process.
‡ 3 year bumper-to-bumper limited warranty standard. For warranty terms and conditions visit www.getac.com
Talk through your purchase with an expert
Need a hand in selecting the right product for your business? Schedule an appointment with me. We'll discuss the challenges you face, what you're looking for, and the laptop or tablet that would best suit your needs.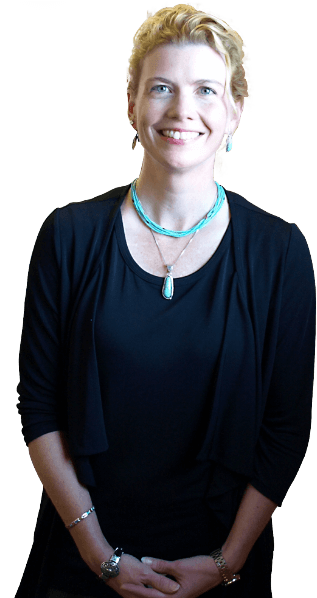 LEARN HOW our hardware and software solutions can increase sales, compliance, profitability, and quality.