Forklift Mounted Tablets & Laptops: Rugged Computing for Material Handling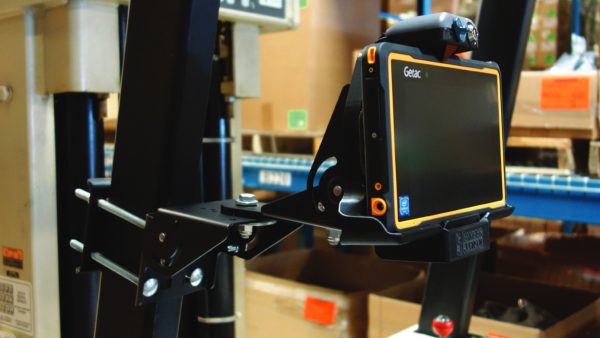 If you own or manage a warehouse, forklift fleet, or industrial site, you know how important reliable rugged devices and mounting equipment can be. Not all devices are fit to be used in such an environment, and as a manager or business owner, you must invest in products that can stand up to heavy everyday use. It can be tempting to purchase normal smart devices for your company, but with the right forklift computer on your side, you won't have to worry about constant repairs and other issues that plague non-rugged devices. Affinity Enterprises offers a wide range of rugged computing and mounting products for your warehouse or industrial workplace.
Choose the Right Forklift Tablet or Computer
The right forklift mounted tablet can help your staff speed up operations. It can allow employees to seamlessly operate machinery since you can easily use it with one hand. Giving your employees tablets also allows them to perform a variety of tasks, such as updating inventory, with greater ease. By ensuring your employees all have access to the same information, you can minimize errors and make sure everyone is on the same page at all times.
When you choose the right computer, you won't have to worry about forklift accidents as often. The right warehouse computer is ideal for drivers who shouldn't have to worry about additional distractions while operating heavy equipment. Your employees are important, and when you take advantage of our mounted rugged computing products, you can rest well knowing you put their safety first.
Getac rugged mobile computers (tablets, laptops, and hybrids) have become a popular option for warehouse, yard, and port operators. Often replacing dedicated forklift-mounted computers, Getac devices offer a versatile combination of more powerful desktop application compatibility and handheld portability lacking in traditional forklift systems. Affinity works with both Getac and an extensive partner network to provide everything needed for a complete warehouse solution, including driver safety screen blanking software, device monitoring software, computer docks, forklift mounting hardware assemblies and accessories, DC/DC power supplies, cordless, long-range barcode scanners, keyboards, and other integrated handheld peripherals for data capture, inventory, and asset tracking.
Recommended Computing Products: Getac's Best Rugged Tablets and Laptops for Warehouses
Recommended Tablets
Getac ZX70 Fully Rugged 7" Android 9.0 Tablet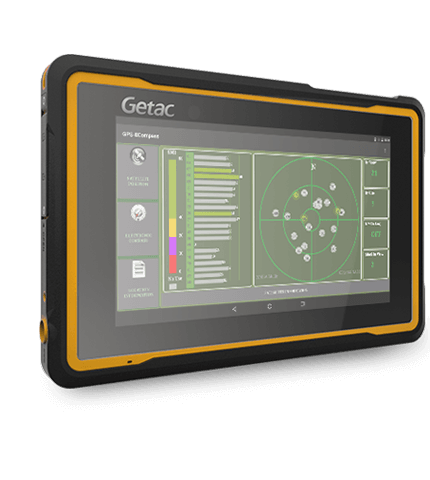 Android OS

7" compact screen

Fully customizable

3-year bumper-to-bumper warranty
Getac's ZX70 Fully Rugged 7" Tablet runs on an Android operating system. This 7" tablet is the perfect size to be mounted on the dashboard of a vehicle and can be fully integrated with other technology found in transport and logistics.
Getac T800 Fully Rugged 8.1" Windows 10 Pro Tablet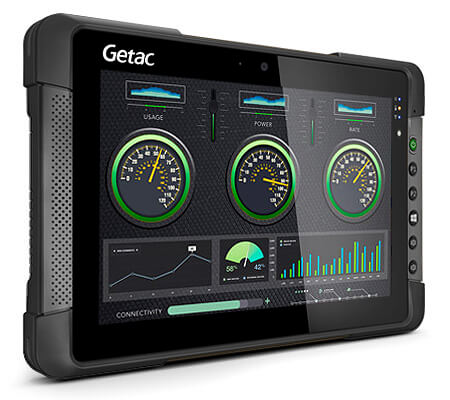 Windows OS
8.1" screen
Fully customizable
3-year bumper-to-bumper warranty
Getac's T800 Fully Rugged 8" Tablet comes with Windows 10 and boasts many of the same size advantages and features as the ZX70 tablet. The T800 also comes with optional barcode scanner and SnapBack smart card and RFID reader or extra battery.
Getac K120 Fully Rugged 12.5″ Windows 10 Pro Tablet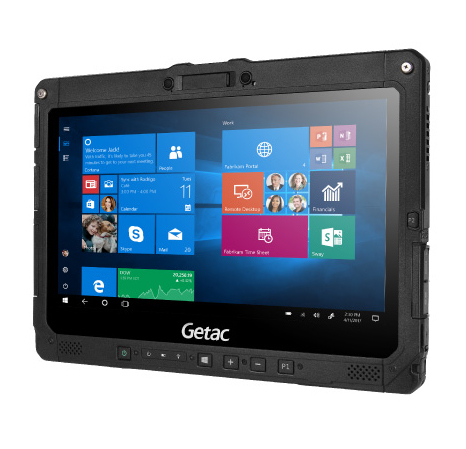 MIL-STD-810G and IP65 certified
Attachable full-size backlit keyboard
Multifunctional tablet hard handle
Adaptable hardware configurations
12.5" display
3-year bumper-to-bumper warranty
This tablet comes with a 12.5" screen and a full, detachable keyboard dock. The Getac K120 Fully Rugged 12.5″ Tablet functions as a tablet, but users can dock it into the full keyboard complete with ports. Equipped with an 8th generation Intel® Core i7/i5 processor and a wide range of connectivity options including GPS, 4G LTE, 802.11ac Wi-Fi, and Bluetooth, it offers exceptional processing power and communication capabilities from anywhere in the field.
Getac A140 Fully Rugged 14″ Windows 10 Pro Tablet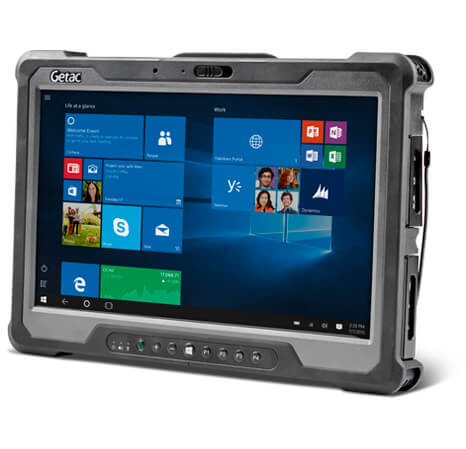 Windows OS
Brilliant 14" Sunlight Readable Display
MIL-STD 810G and IP65 certified
3-year bumper-to-bumper warranty
The Getac A140 fully rugged tablet is our largest and most powerful tablet to date. It delivers exceptional performance, industry-leading security and a spacious 14″ display, with wide viewing angles, that provides more room to get things done, with less scrolling. A host of convenient carrying and mounting options makes it ideal for maximum mobile productivity.
Recommended Laptop Convertible w/ Tablet Mode
Getac V110 Fully Rugged 11.6″ Windows 10 Pro Convertible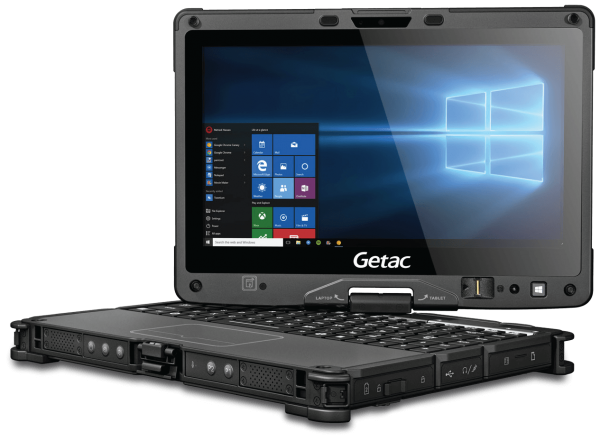 Windows OS
Full-Size Waterproof Membrane Keyboard
Lightweight, weighing in at 4.36 lbs. and 1.26" thin
Hot-swappable dual-battery design
3-year bumper-to-bumper warranty
The Getac V110 fully rugged convertible notebook is the best convertible we've ever made: It features best-in-class performance, industry-leading security, a large 11.6" widescreen display and a design that is as thin and light as ever – at 4.36 lbs. light and 1.26" thin.
Recommended Tablets 2-in-1 w/ Detachable Keyboard
Getac UX10 Fully Rugged 10" Windows 10 Pro Tablet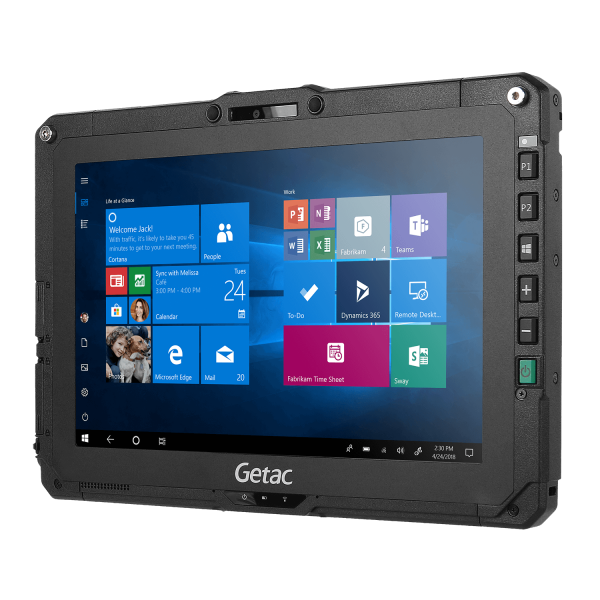 Windows OS
10.1" screen
1000 nits LumiBond® display with Getac sunlight readable technology
3-year bumper-to-bumper warranty
The UX10 has been designed to deliver portable performance across a range of industries, including Industrial Manufacturing, Public Safety and Utility Services, in even the most demanding environments.
Getac F110 Fully Rugged 11.6" Windows 10 Pro Tablet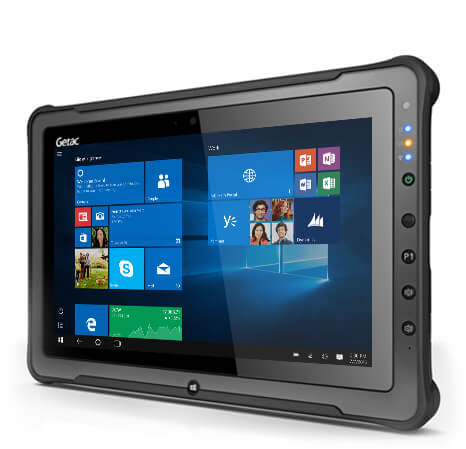 MIL-STD-810G and IP65 certified
Latest Intel® Core™ processors
Dual hot-swappable batteries
Dedicated GPS and 802.11ac WiFi
11.6″ display
3-year bumper-to-bumper warranty
The smallest of our top Getac products for transport and logistics is the Getac F110 Fully Rugged Tablet. Its size makes it one of the best options for vehicle and forklift mounts because it is easily accessible and doesn't take up too much space. It's a mobile data terminal (MDT) and can be fixed to a vehicle or taken out for tasks such as barcoding, photos, and more. The F110 is fully customizable; it can come with all the bells and whistles you need, including a detachable keyboard.
Recommended Laptops
Getac S410 Semi-Rugged 14″ Windows 10 Pro Laptop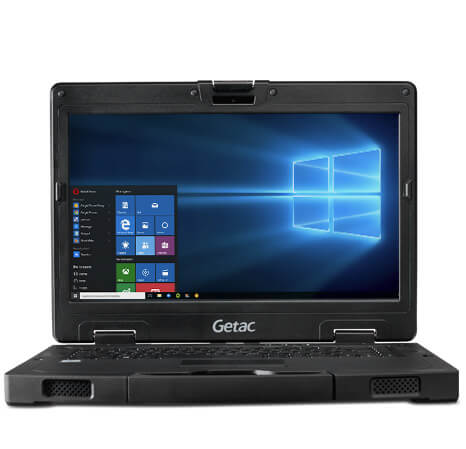 MIL-STD-810G and IP51 certified
Sunlight readable display
Latest Intel® Core™ processors
Low temp. certified (-5.8°F)
The Getac S410 Notebook delivers landmark performance, security, customization and durability unseen in a semi-rugged laptop this thin. Experience the fast Intel® Skylake Core™ i7 processor, airtight security tools with multi-factor authentication and customization features to fit any workflow – all engineered into a thinner, more durable design.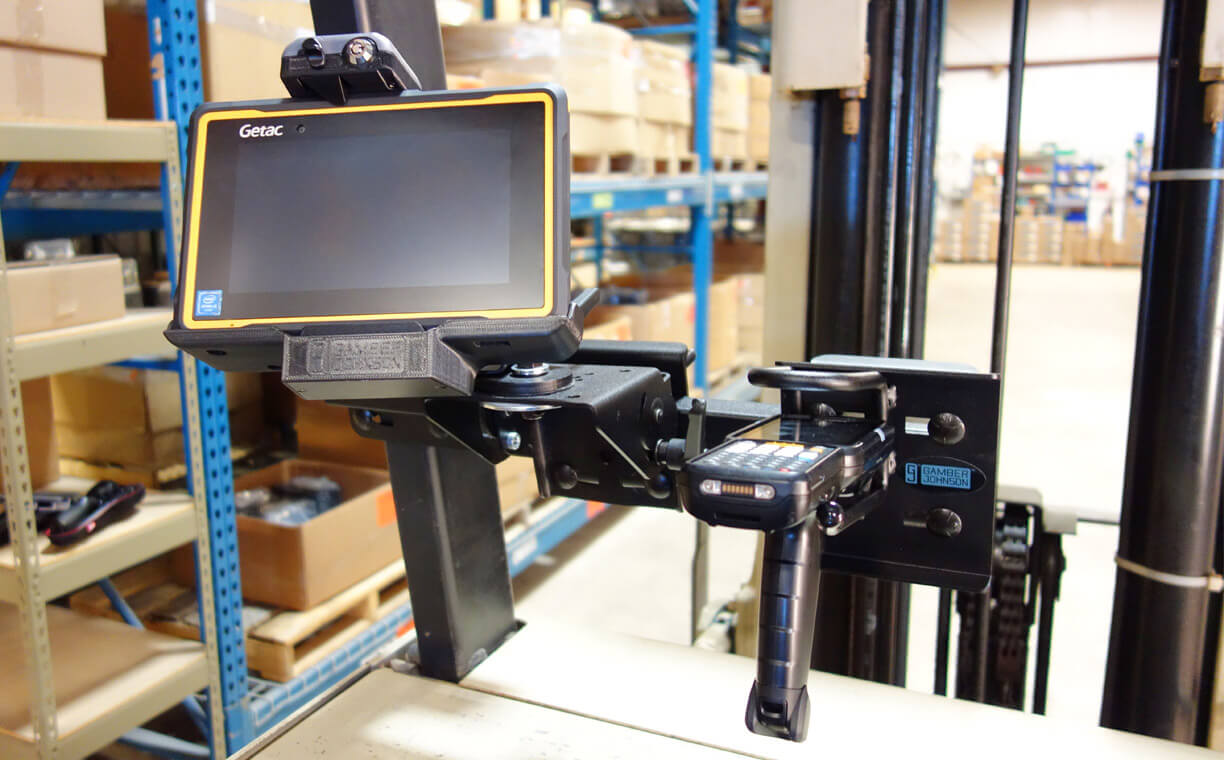 We Can Help With Your Bottom Line
Your bottom line is important, and you are probably wondering how a forklift computer or tablet can improve efficiency and increase your revenue. This is understandable, and you will be pleased to know that our products can help with your bottom line. Ultimately, our products exist to make employees more efficient. The right tablet and mounting option can help them safely multitask, and by giving your employees access to the most up-to-date technology, you can make everyday tasks simpler. Rugged tablets and mounting devices can be employed in a variety of settings, so there is no need to worry about exposing them to conditions normal devices wouldn't be able to handle.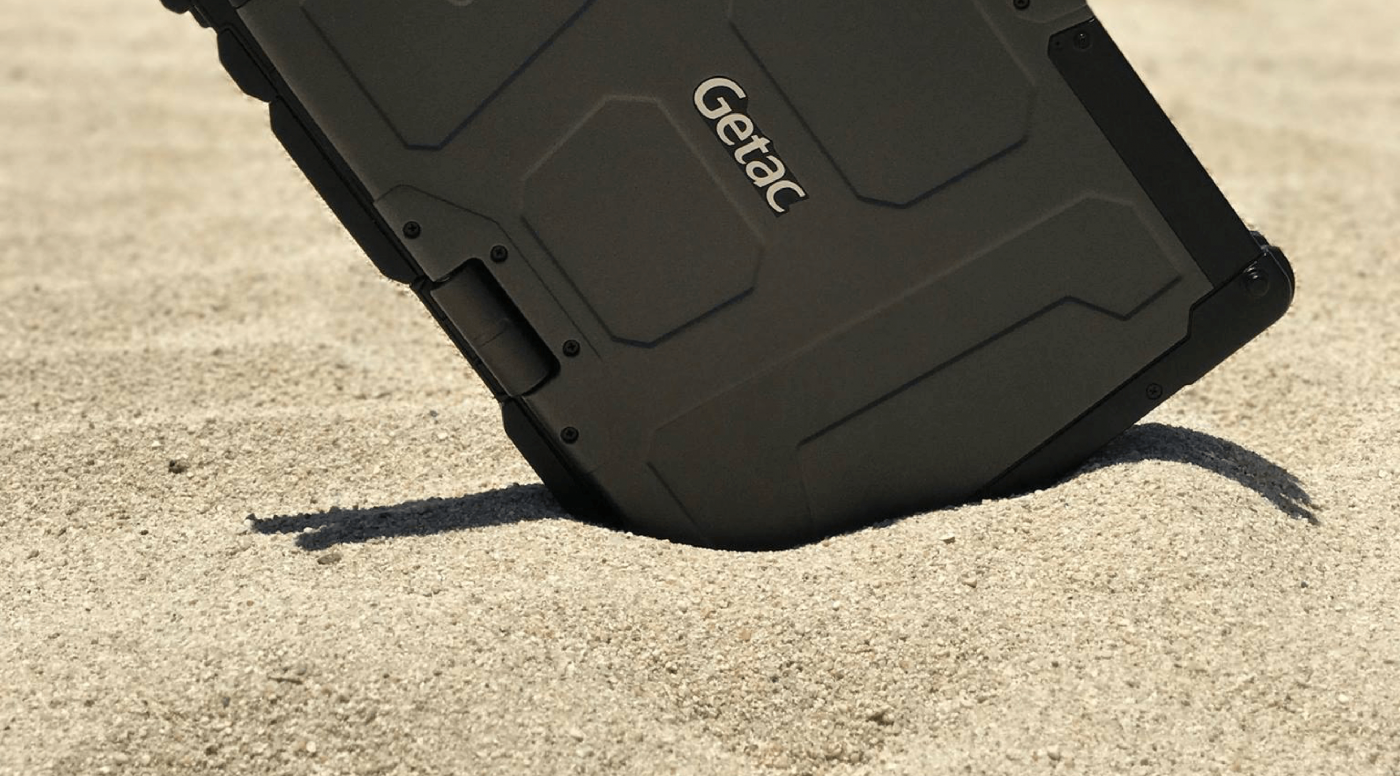 Other Benefits of Mounted Rugged Devices
There are numerous benefits of using mounted rugged computing devices around the warehouse. Many of these benefits will be immediately noticeable to both you and your workers. Some of these benefits include:
Lower Repair Costs: If you break a normal smart device, it can be remarkably expensive to repair it. Sometimes, it may be impossible to repair. This means you will spend more money in the long-run if you keep having to replace your normal smart devices.
Durability: You could potentially utilize a case for your device, but in reality, all devices are not suitable for a warehouse or industrial environment.
Battery Power: When a device is deployed in an industrial or warehouse setting, it will almost always be heavily used. Most traditional smart devices cannot hold up to continuous use without excessive draining of their batteries.
Interferences: If you are allowing your employees to use their own smart devices during work hours, you are taking a huge risk. Not only will they be easily distracted by personal calls and texts, but their devices could easily break or sustain damage in such an environment.
When you purchase our products, you are making a wise investment in yourself, your company, and your employees.
Partner with Affinity Enterprises
If you are in need of rugged computing or mounting solutions, don't hesitate to reach out to Affinity Enterprises. We take pride in offering a wide selection of products for warehouse, forklift fleets, and industrial sites. View our other rugged computing products or contact us directly to learn how our hardware and mounting solutions can increase sales, compliance, profitability, and quality.