Getac S410 Semi-Rugged 14″ Laptop
Performance with Purpose.
The Getac S410 Notebook delivers landmark performance, security, customization and durability unseen in a semi-rugged laptop this thin. Experience the fast Intel® Skylake Core™ i7 processor, airtight security tools with multi-factor authentication and customization features to fit any workflow – all engineered into a thinner, more durable design.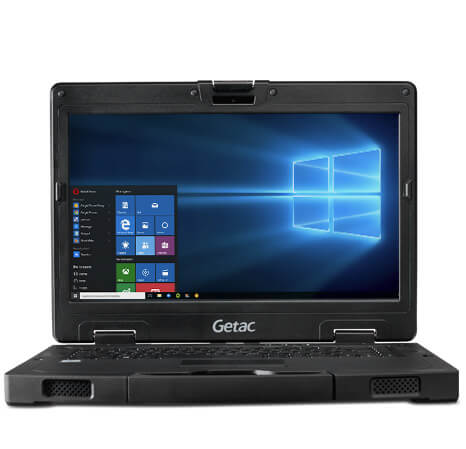 Get a Quote for the Getac S410 Semi-Rugged 14″ Laptop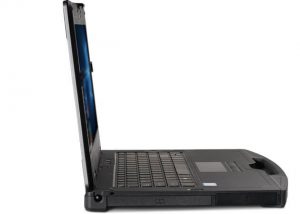 Thinner, Lighter and More Powerful
The S410 moves seamlessly from car to appointment with ease. It's 29% thinner and 23% lighter than the S400, and commands critical performance with the ultimate 8th generation Intel® chipset.
Agile Multi-Tasking
Available 8th generation Intel® Core™ i5 and i7 processors give the S410 best-in-class performance for data-intensive multi-tasking.
Optional Discrete GPU
Enhance your S410 with the NVIDIA GeForce GTX 950M GPU for processor-intensive 3D graphics and CAD software.
Faster Start-Up Times
With such a powerful Intel processor, the S410 boots up in seconds for time-sensitive, high-priority operations.
Efficient Battery Usage
Intel's 6th generation Skylake™ processors deliver greater computing and GPU performance
using less power.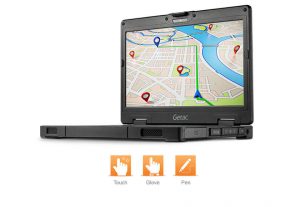 Vibrant 14" Capacitive Touch Display
Getac's renowned LumiBond® 2.0 display technology provides exceptionally high clarity, color and readability you can count on in any condition – available in HD and Full HD resolutions.
LumiBond® 2.0 Technology
By bonding Gorilla® Glass with the touch panel and LCD, Getac LumiBond® 2.0 technology creates a single pane with the greatest durability, readability and responsiveness possible.
10-Point Touch Sensor
A more precise and responsive capacitive touchscreen provides a full range of control, even while using the hard-tip stylus or wearing gloves.
1000 nits Brightness
The S410 measures up to 1000 nits of brightness – that's 25% brighter than the S400 – for glare-free visibility in broad daylight.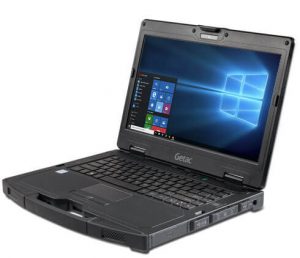 Security Redefined
Experience a robust suite of security features, including multi-factor authentication, to protect against malicious threats and intrusions.
Trusted Platform Module 2.0
The S410 features TPM 2.0 – a powerful anti-tampering device that checks for any signs of intrusion during system boot-up.
Absolute DDS
This optional protective measure disables your S410 if it detects an unauthorized or compromised entry.
OPAL 2.0 SSD
With advanced hardware-based self-encryption technology, confidential data stored in the drive is protected from unauthorized access.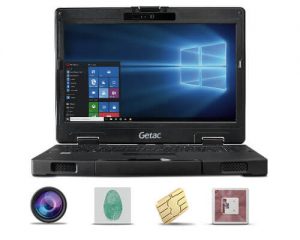 Windows 10 Security
The S410 fully supports Microsoft's latest authentication tools, including Windows Hello and Microsoft Passport. Logging in is quick and easy with an optional IR camera, fingerprint reader, smart card reader or dual frequency (LF/HF) NFC/RFID.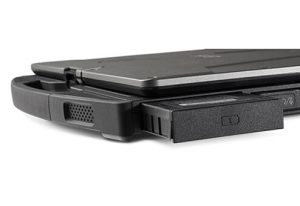 Around-The-Clock Power
Getac's hot-swappable battery system gives the S410 limitless battery life. Swap new batteries in and out without ever shutting down and choose between two optional battery upgrades:
A secondary battery in the media bay for marathon power
A built-in bridge battery to quickly replace the main battery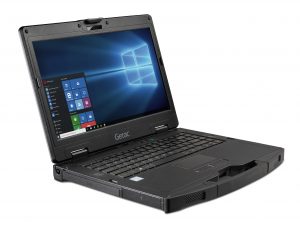 Mission-Critical Connection
The S410 integrates high-speed wireless communication technologies that you can rely on to stay connected online anytime, anywhere.
Intel Dual-Band Wi-Fi
Experience blazing-fast connectivity from the built-in dual-band 802.11ac Wi-Fi.
4G Sierra Wireless WWAN
Enjoy exceptional coverage, download and upload speeds with fewer dropouts.
Dual Mode Bluetooth® 4.2
Transmit and receive data between the newest Bluetooth® devices seamlessly.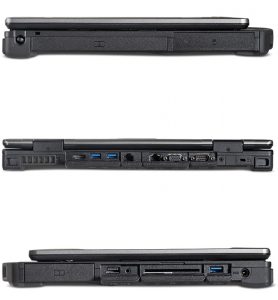 Customize The S410 to Your Particular Workflow
The S410 provides an uncompromised array of ports, accessories, in-vehicle dock options and expansion capabilities.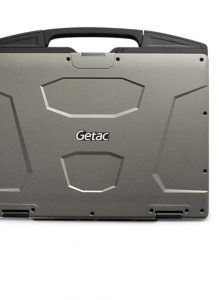 Built to Survive, Withstand and Outlast
The S410 is engineered with Getac's durable KryptoShell™ 2.0 body material to keep working for as long as you do, while resisting fluid exposure with its raised island-style keyboard and sealed ports.
Ergonomic Handle
The durable retractable handle makes the S410 comfortable to carry while providing extra protection.
No-Slip, No-Scratch Stance
Rubber corners prevent slipping, scratching and damaging surfaces when moving from appointment to appointment.
MIL-STD810G & IP51 Certified
The S410 is rigorously field-tested by an independent testing lab to meet or exceed MIL-STD810G & IP51 criteria for shocks, falls, spills, vibrations and dust.
Best-In-Class Temperature Range
From a field visit in Fargo to a vehicle trunk in Phoenix, the S410 can operate in extreme temperatures ranging from -5ºF up to 140ºF.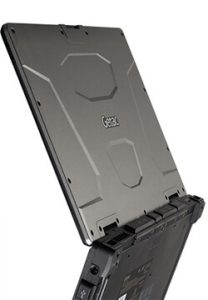 Serviced By FedEx TechConnect
The faster, more convenient and more reliable service so you can get back to doing what you do best.
It's Service DeliveredSM.
Ruggedness
Semi-Rugged
MIL-STD 810G certified (vibration, temperature, shock, altitude and humidity)
IP51 certified
3 foot drop - 26 faces (non-operational)
Covered ports
Operating System
Windows® 10 Pro
CPU
Intel® Core™ i7-8650U 1.9GHz processor with Turbo Boost Technology up to 4.2GHz
8MB Intel ® Smart Cache

Intel® Core™ i7-8550U 1.8GHz processor with Turbo Boost Technology up to 4.0GHz;
8MB Intel ® Smart Cache

Intel® Core™ i5-8350U 1.7GHz processor, with Turbo Boost Technology up to 3.6GHz 6MB Intel ® Smart Cache

Intel® Core™ i5-8250U 1.6GHz processor with Turbo Boost Technology up to 3.4GHz 6MB Intel ® Smart Cache

Intel® Core™ i3-7100U 2.4GHz processor 3MB Intel® Smart Cache
Memory
4GB DDR4 expandable to 32GB
Storage
SATA 500GB HDD†
Optional SATA 1TB HDD
Optional SATA OPAL 2.0 128GB / 256GB / 512GB / 1TB SSD
Optional 2nd Storage (onboard) 128GB / 256GB OPAL 2.0 SSD
VGA Controller
Intel HD Graphics 620
Optional NVIDIA® GeForce® GTX 950M 4GB discrete graphics
Display
14" HD widescreen (1366 x 768) TFT LCD
Optional 1000 NITS LumiBond® sunlight readable display with multi-touch technology

Optional Full HD 14" TFT LCD (1920 x 1080)
800 NITs LumiBond sunlight readable display with multi-touch technology
Webcam
Optional integrated FHD webcam (1920x1080); or IR webcam
Keyboard
Splash-resistant membrane keyboard
Optional splash-resistant LED backlit
Customizable Bay (One option only)
Optional PCMCIA Type II
Optional ExpressCard 34/54
Optional DVD super multi drive
Optional 2nd battery
Expansion Slot
SD Card Reader
Optional smart card reader
Security
IntelTM Technology (per CPU options)
TPM 2.0
Cable lock slot
Optional smart card reader
Optional LF/HF RFID contactless Smart card reader
NIST BIOS compliant
Optional fingerprint reader
Optional Absolute™ DDS software
Communications
10/100/1000 base-T Ethernet
Intel Dual Band Wireless-AC 8260, 802.11ac
Bluetooth (v4.2)
Optional dedicated GPS
Optional 4G LTE multi-carrier mobile broadband with CA2
Power
AC adapter (65W, 100-240VAC, 50/60Hz or 120W, 100-240VAC, 50/60Hz with NVIDIA configs.)
Li-Ion battery (11.1V, 4200mAh)
Optional Media Bay 2nd battery (11.1V, 4200mAh)
Dimensions and Weight
13.8" x 11.5" x 1.4" (350 x 293 x 34.9 mm) ††
4.9 lbs (2.2kg)
Temperature
Operating: -5.8°F to 140°F / -21°C to 60°C /
Storage: -60°F to 160°F / -51°C to 71°C
Humidity: 95% RH , non-condensing
I/O Interface
DC in x 1
USB 3.0 (9-pin) x 3
USB 2.0 (4-pin) x 1
Network (RJ-45) x 1
Headphone-out / microphone-in combo x 1
HDMI x 1
Optional Serial port (RS-232: 9-pin, D-sub) x 1 Optional VGA port (15-pin, D-sub) x 1
Docking connector (16-pin) x 1
Optional RF antenna pass-through for
GPS, WLAN and WWAN
Optional rugged USB 2.0, rugged LAN, PowerShare USB 2.0, or LAN (RJ-45), or USB 3.1 Gen1 Type-C x 1
Warranty
3 Year limited warranty standard ‡
Standard and optional features vary depending on purchased configuration. Specifications subject to change without notice.
1 MIL-STD 810G certified for vibration, temperature, shock, altitude, humidity and 3 ft drop.
2 Data plan required. Cellular data is available in the US on Verizon Wireless and AT&T networks. LTE is available in select markets. Check with your carrier for details. 4G LTE configuration must be
ordered at time of purchase.
3 Computers configured with a 32-bit operating system can address up to 3GB of system memory. Only computers configured with a 64-bit operating system can address 4 GB or more of system memory.
† For storage, 1GB = 1 billion bytes; actual formatted capacity less.
†† Dimensions and Weight vary by configuration and manufacturing process.
‡ 3 year limited warranty standard. For warranty terms and conditions visit www.getac.com
Talk through your purchase with an expert
Need a hand in selecting the right product for your business? Schedule an appointment with me. We'll discuss the challenges you face, what you're looking for, and the laptop or tablet that would best suit your needs.
LEARN HOW our hardware and software solutions can increase sales, compliance, profitability, and quality.