Affinity Receives Prestigious Rochester Chamber Top 100 Award
Affinity Enterprises, LLC has been recognized as one of the Top 100  fastest growing privately owned companies in the Greater Rochester Area.
The Rochester Top 100 Awards celebrates the strong entrepreneurial spirit in the local Rochester area. To be eligible to receive the award, businesses must be privately held, headquartered in the nine-county Rochester region, and have earned at least $1 million in revenue in each of its three most recent fiscal years. Top 100 awardees are computed based on both dollar and percentage revenue growth.
LEARN HOW our hardware and software solutions can increase sales, compliance, profitability, and quality.
Affinity Enterprises was founded in 2005, but it wasn't until 2015 when current CEO Amy Palka took the reigns and Affinity entered into the biggest transitional years of the company. In the first year, she deliberately kept business operations exactly as they were.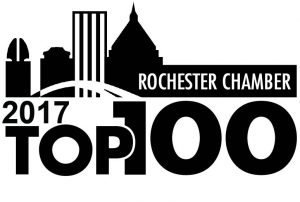 "My first goal was to have a smooth transition and maintain continuity of service for all of our customers," said Palka. "I spent a lot of time with the previous owner of the company, and together, we met with the majority of Affinity's customers in person. I wanted the original footprint of Affinity to be preserved."
Once business operations were established, Palka began to employ methods to diversify and organically grow the core customer base. For its first ten years, Affinity relied primarily on personal networking, reputation, and word of mouth referrals for leads and new business. Looking ahead to the company's next chapter, Palka and Affinity began to build on that foundation, engaging in 360° marketing and lead generation techniques to increase  name recognition, engage new customers, attract more talent, and develop robust channel relationships in public sector as well as commercial markets
Amy and her husband, Dan, who is Affinity's Chief Financial Officer, are passionate about the area and community in which they live and work, making the Rochester Top 100 award all the more special to them
"Winning this award so soon after purchasing Affinity is validating in many ways," said Palka. "Affinity has all the right ingredients for success, including an incredibly talented core team, and we are confident that the best is yet to come. This is just the beginning for us."
Want To Work With One Of Rochester's Top Companies?
At Affinity, we believe technology should just work. No fuss, no hassle, no downtime. Contact us today to discover how the right technology solutions can increase your sales, profitability, compliance, and quality.
About Affinity Enterprises
Founded in 2005, Affinity Enterprises partners with public and private sector organizations to deliver technology solutions that elevate and amplify the end-user experience, while still achieving the best value for every dollar invested. Affinity only partners with the best brands in the industry, such as Hewlett Packard Enterprise, Getac, and HP, Inc. to ensure their clients receive the best-in-class hardware, software, and services for their needs.