Fully Rugged Computing and Mobility Solutions
What Is Rugged?
When it comes to computers, rugged means that it is strongly made and capable of withstanding rough handling.
The operating conditions specified for a computer indicate its level of ruggedness. Operating conditions include operating and storage temperature, maximum operating and storage altitude, and relative humidity.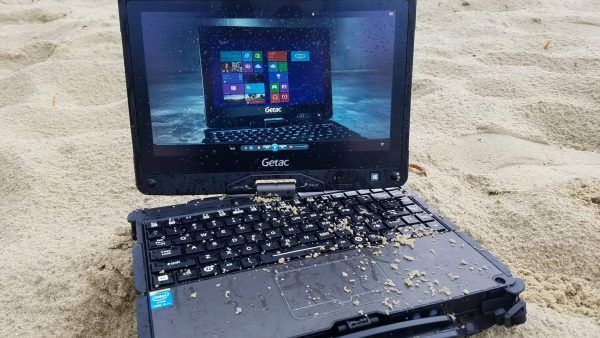 Rugged Technology Made for Any Environment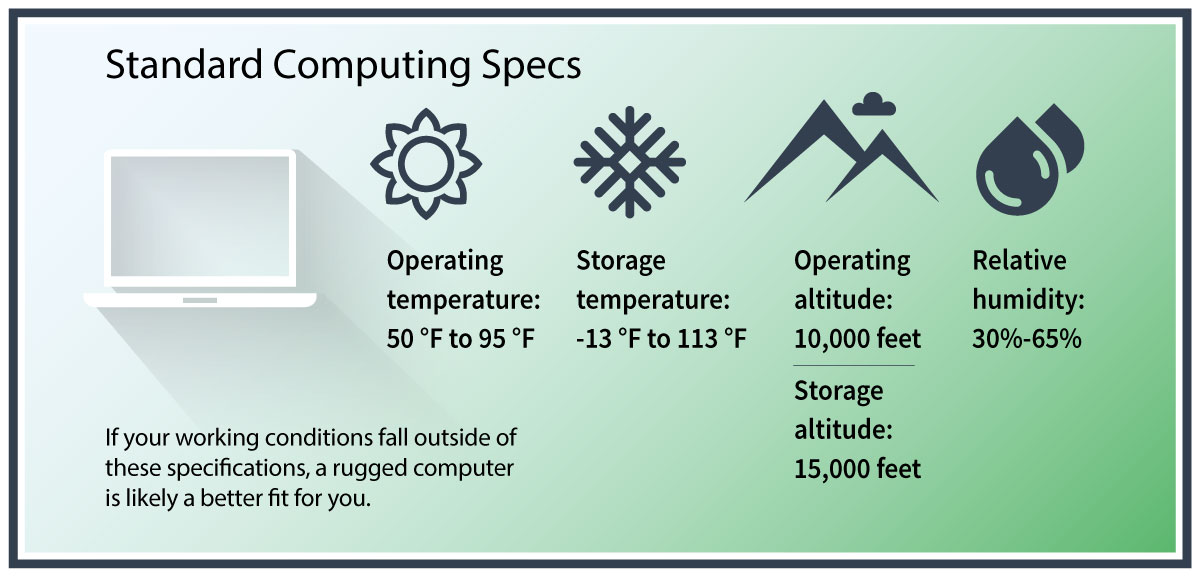 Standard, non-rugged computers typically have specifications of:
Operating temperature: 50 °F to 95 °F
Storage temperature: -13 °F to 113 °F
Operating altitude: 10,000 feet
Storage altitude: 15,000 feet
Relative humidity: 30%-65%
If your working conditions fall outside of these specifications or nearly fall outside, a rugged tablet or laptop is likely a better fit for you.
Beyond those specifications, rugged units are often equipped with protection to face multiple challenges, such as:
Shock and vibration
Corrosion and abrasion
Water immersion
Electromagnetic interference
Minimal size, weight, and power

In environments where rugged computers are commonly used, the total cost of ownership was significantly reduced when users opted for a rugged or semi-rugged computer over a durable or non-rugged computer. [source]
What To Consider When Choosing A Rugged Computer
MIL-STD-810G Testing
MIL-STD-810G Testing was designed by the US military to test its equipment limits in varying conditions. It's comprised of about 24 laboratory tests and covers a wide range of potential environments, from the ability to perform at a high altitude (method 500.5) to the ability to survive mechanically induced shocks (method 516.6). The more methods tested and passed, the more rugged the unit.
Here are some of the typical MIL-STD-810G tests used to certify ruggedness for mobile laptops and tablets:
Test Method 500.5 Low Pressure (Altitude)
Test Method 501.5 High Temperature
Test Method 502.5 Low Temperature
Test Method 503.5 Temperature Shock
Test Method 506.5 Rain
Test Method 507.5 Humidity
Test Method 509.5 Salt Fog
Test Method 510.5 Sand and Dust
Test Method 514.6 Vibration
Test Method 515.6 Acoustic Noise
Test Method 516.6 Shock
The tests you look for will depend on the environment you work in.
IP Rating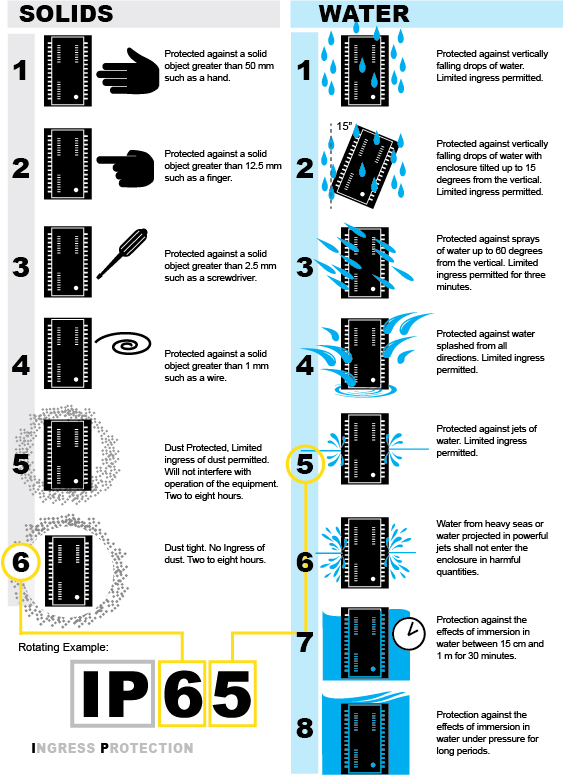 The IP Rating (International Protection Rating, Ingress Protection Rating) is a two-digit number (e.g. IP65) which classifies the protection provided against solids and liquids. The first number relates to solids and the second to liquids.
This rating is used to provide more accurate information about the protection level for a device, rather than general marketing terms such as "waterproof" or "water resistant."
Type of Ruggedness: Fully Rugged or Semi-Rugged
Semi-rugged computers are usually tested to some parts of MIL-STD-810G and IP specifications and offer more protection than standard PCs. While semi-rugged devices are significantly more durable than a standard device, they are still susceptible to a decrease in performance in extreme conditions.
Fully rugged computers are generally fully tested against applicable MIL-STD-810G testing methods and often are totally resistant to both water and dust (IP65 or greater). Fully rugged laptops and tablets are designed to operate in any condition.
Affinity helps organizations protect their digital data by providing tailored computing and mobility solutions designed to withstand rugged environments.
Your computer and tablet go through a lot – choose rugged devices that are up to the challenge.
What We Do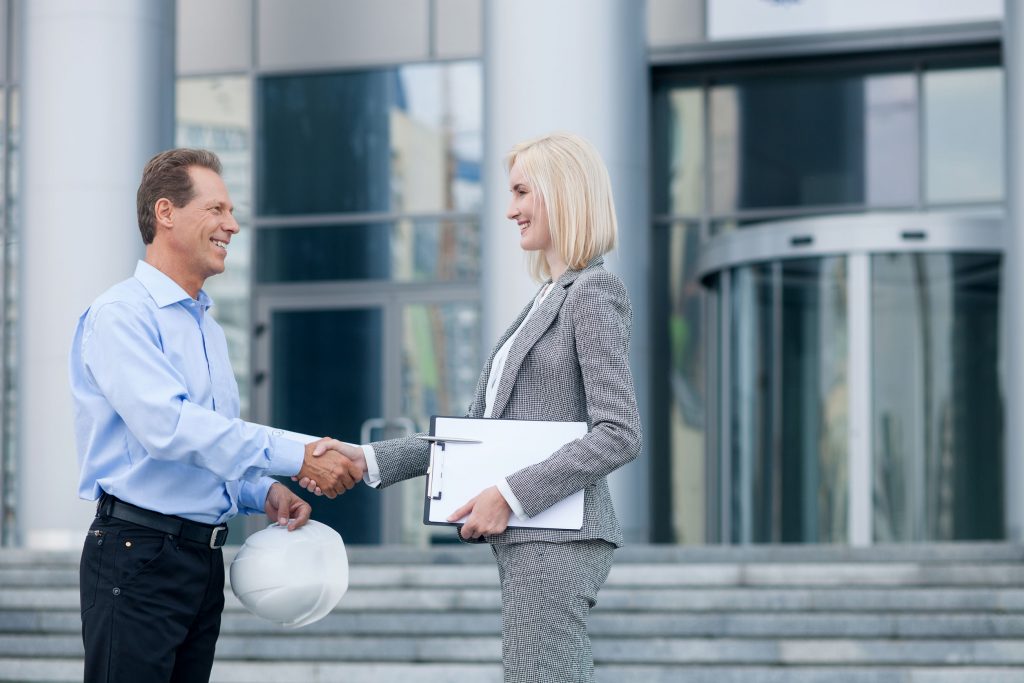 Affinity provides quality hardware solutions to help our clients' organizations run smoothly. We partner with brands that have a track record of success, outstanding warranties, and that have performed under difficult conditions and provide recommendations based on our expertise and product knowledge.
Our focus on specific brands allows us to have expert product knowledge and superior implementation services for the products we offer.
No matter your challenges, our technology consultants will expertly guide you through your rugged computing options to find the highest quality solution that meets your needs and fits your budget.
Rugged Computing Solutions
Affinity offers a full range of rugged computing and mobility solutions, including rugged devices, mounting solutions, rugged accessories. We partner with some of the best brands in the industry, such as Getac, Gamber Johnson, Havis, and Printek for premium quality hardware solutions that fit the needs of your organization.
Laptops
Dual batteries for limitless power. 27% faster Intel Core processors. Brighter and stronger screens. QuadraClear anti-reflection screen display. Ultrafast 4G LTE. But most importantly, notebooks can be used in rugged conditions and still perform optimally. Whether it be freezing cold temperatures, dust storms, or an unexpected downpour, Getac's four protective casings on their rugged notebooks will safeguard your work. Getac offers five notebooks, from a compact and lightweight convertible to a fully rugged mobile server, that are backed up by one of the best warranties in the industry.
Tablets
Ranging from tactical to medical to wearable, rugged tablets go wherever you do and provide best in class battery life, widescreen displays, industry-leading security, seamless connectivity, and a comfortable grip. Getac offers tablets suited to fit zone 0, critical, or medical environments.
Handhelds
Expand your reach in the field with a rugged handheld device. Built for power, functionality, and ruggedness, rugged handhelds feature a large 3.5" display with a pressure sensitive touchscreen, advanced GPS, alphanumeric keyboard, ample power to run multiple apps, and the best rugged standards in the industry. Rugged handhelds are protected against dust, repeated drops, vibrations, shocks, water up to one meter, and can operate in temperatures ranging from -22° F to 140° F.
Video
Rugged video capture and evidence management solutions are customizable to every need, providing best in class video capture in equipment that can stand harsh environments and abuse. High definition, ultra sharp video recording devices deliver amazingly crisp results in low lighting, providing visibility into an environment of absolute darkness. Body-worn cameras allow for live streaming to the cloud, where all video and officer locations can be seen in real-time on a map, and in field tagging allows users to easily classify and organize videos on any device.
Mobile Docking and Mounting Solutions
Mobile docking and mounting solutions make your equipment easy to see, reach, and operate while in the driver's seat, all the while creating additional space and comfort and extending the life of ports, cables, and peripherals. Affinity can help with docks and mounts for cars, trucks, forklifts, mobile carts, and office stations. For example, custom-built docking stations for Getac laptops and tablets provide a secure location for charging and connecting to external devices, such as printers, scanners, external antennas, and more.
Rugged Accessories
Affinity also partners with companies who engineer rugged peripherals, such as keyboards, printers, and antennas. iKey keyboards are rugged, resilient, and fail-proof, and are able to withstand dust, dirt, water, corrosive liquids, and extreme temperatures. Airgain external antennas offer superior performance and flexible mounting options for various deployment scenarios and devices.
Industries Benefiting from Rugged Computing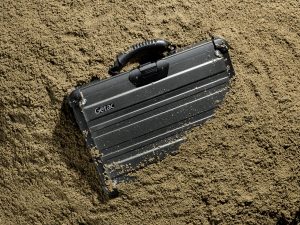 Agriculture – Collect and analyze soil samples, track livestock with RFID, manage farm inventory, run irrigation control systems and more.
Construction – Run projects from the build site, communicate real-time with central HQ, access blueprints without damaging, run analyses onsite enabling immediate direction and action based on results.
Environmental – Biologists, scientists and environmental consultants: Collect sea ice samples, use GPS data to accelerate triage of oil spill sites, inspect and monitor stormwater assets, etc.
Field Service – Schedule service calls, navigate with GPS, manage team schedules, update work orders, track inventory, enter time onsite, sync field measurements and meter readings in real-time.
Forestry – Cruise timber, navigate using dedicated GPS, map, image, report, and analyze data for wildlife surveying, silviculture, and forest management.
GIS/Mapping – Get more done while in the field. Gather and analyze GIS data, create maps, and communicate real-time even from remote locations.
Healthcare – Hospital staff, with patients, in the lab: Efficiently and securely collect, share, and monitor patient data. Move quickly, not worrying about shakes, vibrations, drops, shocks, cart crashes. Decontaminate and sterilize devices from patient to patient.
Industrial – Send data wirelessly in real-time, create reports and sync automatically with office technology, integrate with onsite machinery for status tracking, etc.
Logistics – Inventory, distribution, and supply chain management.
Manufacturing – Inspection, quality and inventory control, machinery maintenance, order tracking.
Mining – Streamline data management and operations: timekeeping, vehicle tracking, maintenance logging, supplies deliveries,real-time communications with those off-site. Perform in the face of vibrations, dust, moisture, and temperature fluctuations.
LEARN HOW our hardware and software solutions can increase sales, compliance, profitability, and quality.