Getac X500 Ultra Rugged 15″ Laptop
Large Screen. Endless Expansion.
This 3rd generation X500 ultra rugged notebook remains our flagship model. By combining powerful Intel 7th generation Quad-Core processors with a brilliant 15.6 inch full HD display and endless expansion, the X500 is the most powerful ultra-rugged notebook we've ever made.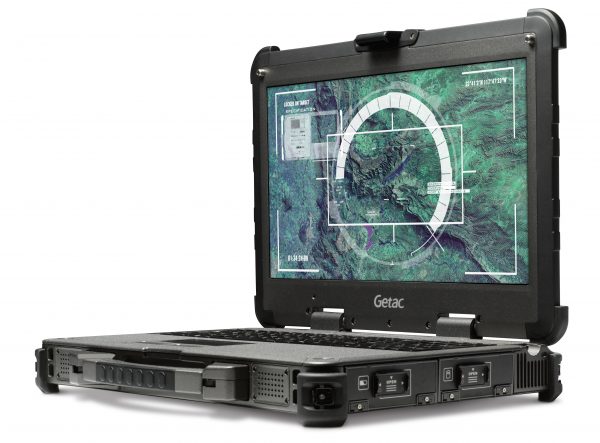 Get a Quote for the Getac X500 Ultra Rugged 15″ Laptop
Larger High-Definition Display.
The X500 features a massive 15.6 inch full HD 1080p widescreen display delivering crystal-clear high definition. Configure yours with the NVIDIA® GeForce® GTX950M discrete graphics with 4GB of dedicated memory and you will get faster speeds (frames per second) with incredible responsiveness.
Sunlight Readable Display.
Available on every X500 is the advanced QuadraClear® display. Getac's QuadraClear solution combines proprietary technologies for both screen brightness and anti-reflectivity to reduce the sunlight's reflectivity and provides a more effective contrast rate than other displays, while still maintaining the battery life you need in the field.
The QuadraClear display is powered by LEDs that provide an energy efficient display that is mercury-free, durable and consistent in brightness over time.
Next Generation Processors.
With a state-of-the-art 3.0 GHz Intel Core i7 quad-core processor, the X500 is the most powerful rugged computer ever made. The quad-core processor is ideally suited to handle the multi-tasking necessary in today's complex work environments.
Turbo Boost.
When you run a processor-intensive application on the X500, the processor frequency in the active cores will dynamically increase up to 3.9GHz, providing the performance increase necessary for a timely response to mission critical information.
Hyper-Threading.
Every Getac X500 includes Hyper-Threading allowing you to run demanding applications simultaneously while maintaining system responsiveness. With Hyper-Threading, the X500 keeps the system more secure, efficient, and manageable while minimizing impact on productivity.
Add Full PCI or PCIe Cards.
The X500 offers an expansion chassis that truly distinguishes itself from other rugged notebooks. With two slots for either PCI or PCI
Express 3.0, the X500 with expansion chassis combines the expandability of a desktop computer with the portability of a rugged notebook.
Solid State Drive Options.
This fully rugged notebook's memory may optionally be expanded with with a SATA 512GB / 1TB** SSD and a secondary 512 GB / 1TB** SSD for a huge amount of storage capacity.
RAID Storage.
The X500 can be configured with dual 1TB drives with RAID 0 or RAID 1 with Windows Server 2016 providing either maximum capacity and performance or mirror drives for maximum protection, depending on your needs.
For a full rugged server with up to 5TB of storage and dedicated RAID card supporting RAID 0, 1 & 5 – visit the X500 Server page.
Easy Access to Protected Connections and Ports.
With two USB 3.0 ports, two serial ports, dual Ethernet ports, and a VGA port among others, the X500 has plenty of ports to connect the peripherals that you use.
Built to Survive™.
Only Getac manufacturers rugged computers down to the chassis. Built from high quality magnesium alloy, the X500 rugged laptop features four main casings specifically engineered to protect the computer against drops, shocks, spills, vibration, extreme temperatures, and more. The sealed design of the X500 protects it against dust and moisture. The X500 has been independently tested and certified to IP65 and ANSI/ISA 12.12.01 standards and military standards (MIL-STD 810G and MIL-STD-461G).
Core Manufacturer.
Getac is one of the largest manufacturers of magnesium alloy computer chassis in the world. Our expertise in manufacturing the housing itself provides key insight into how to make them stronger.
Sealed Ports and Doors.
Sealed doors and ports provide an ingress protection against dust, moisture, and water, allowing the X500 to be certified to an IP65 rating.
Industry's Best 5-Year  Bumper-to-Bumper Warranty.
Nothing says quality like a manufacturer standing behind their product. We've designed the X500 ultra rugged laptop from the inside out to survive drops, shocks, spills, vibration and more. We're confident in our quality and that's why the X500 ultra rugged notebook computer comes standard with the industry's best 5-Year bumper-to-bumper warranty. It's the peace-of-mind protection of knowing you're covered.¹
Covers Everything.
Getac's warranty includes all major system components.
Accidental Damage.
Getac's warranty includes coverage for accidental acts and exposure to environmental conditions.
Genuine Parts.
Getac's warranty repairs are carried out by expert technicians using Getac original production parts.
Ultra Ruggedness
Ultra rugged
MIL-STD 810G and IP65 certified
MIL-STD 461G certified*
Optional ANSI/ISA 12.12.01
Operating System
Windows® 10 Professional

CPU
Intel® Core™ i7-7820HQ vPro 2.9GHz, Max. 3.9GHz
8MB Intel® Smart Cache
Intel® Core™ i5-7440HQ vPro 2.8GHz, Max. 3.8GHz
6MB Intel® Smart Cache
Memory
8GB DDR4 expandable to 64GB

Storage
SATA HDD 500GB;
Optional SATA HDD 1TB
Optional SATA SSD 512GB / 1TB***
Display
Intel® HD Graphics 630
Optional NVIDIA® GeForce® GTX950M 4GB discrete graphic controller
Keyboard
LED backlit membrane keyboard with integrated numeric keypad
Optional LED backlit rubber keyboard
Media Bay Options
DVD super multi drive
Optional 2nd battery: 10.8V, 8700mAh
Optional 2nd storage: HDD 500GB / 1TB; SSD 512 GB / 1TB**
Expansion Slots
Optional PCMCIA Type II x 1
ExpressCard/54 x 1
Smart Card reader x 1
SD Card Reader x 1
Expansion Unit
Optional PCI or PCI-Express 3.0 (x2 slots)

Security
Intel® vPro™ Technology
TPM 2.0
Smart Card reader
Kensington lock
Communications
10/100/1000 base-T Ethernet
Intel® Dual Band Wireless-AC 8265, 802.11ac Bluetooth® (v4.2)
Optional dedicated GPS
Power
AC adapter (150W, 100-240VAC, 50 / 60Hz)
Li-Ion smart battery (10.8V, 8700mAh)
Optional Multimedia Bay 2nd Li-Ion smart battery (10.8V, 8700mAh)
Dimensions & Weight
16.1" x 11.4" x 2.5" (410 x 290 x 65 mm)
11.4 lbs (5.2 kg)†
Temperature
Operating temp: -4°F to 131°F / -20°C to 55°C
Storage temp: -40°F to 160°F / -40°C to 71°C
Humidity: 95% RH, non-condensing
IO Interfaces
Serial port (9-pin; D-sub) x 2
External VGA (15-pin; D-sub) x 1
Microphone (Mini-jack) x 1
Audio output (Mini-jack) x 1
DC in Jack x 1
USB 3.0 (9-pin) x 4
LAN (RJ45) x 2
HDMI x 1
Docking connector (80-pin) x 1
Optional RF antenna pass-through for GPS, WLAN and WWAN
Optional FHD webcam x 1
Warranty
5 Year bumper-to-bumper warranty standard††

Specification subject to change without notice.
* Requires MIL-STD 461G 150W AC Adapter sold separately.
** For storage, 1GB = 1 billion bytes; actual formatted capacity less.
† Weight varies by configuration and manufacturing process.
†† Industry's best 5 year bumper-to-bumper limited warranty standard. For warranty terms and conditions visit www.getac.com