Getac EX80 Fully Rugged (Class I/II Div 1) 8″ Tablet
Sealed for Safety
The EX80 fully rugged tablet is intrinsically safe and certified for use in Zone 0, hazardous and potentially explosive environments. With its 8" display and ergonomic design, it's comfortable to use and hold in one hand; and a host of multi-layer security features make it a safe and productive solution for any work environment.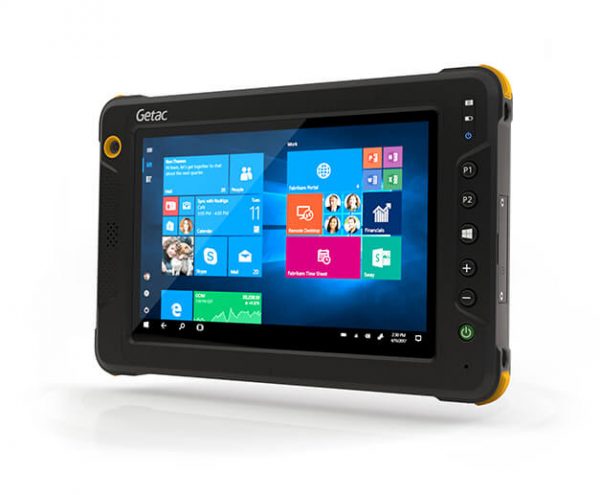 Get a Quote for the Getac EX80 Fully Rugged (Class I/II Div 1) 8″ Tablet
Certified for Zone 0 Environments
The EX80 is purpose-built for safe operation in the most hazardous and explosive environments. It is certified for ATEX and IECEx Zone 0 and UL913 (Class I / II Division 1).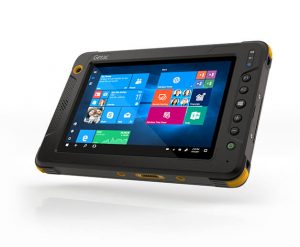 Inside
The EX80 is encapsulated to protect against dust, light, chemicals, water, radiation, temperature fluctuation, and mechanical stresses. Double-fault circuitry design provides redundancy to prevent system failure.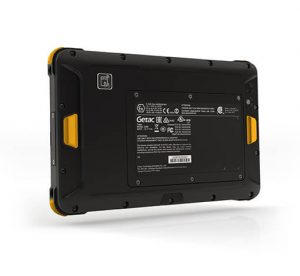 Outside
The EX80 features a double injection anti-static enclosure seal, and special screws to help ensure safety and prevent accidents.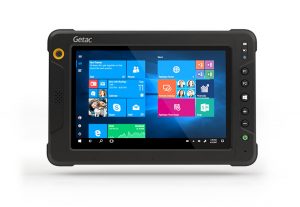 Right-Sized for Uncompromised Mobility
Designed to fit ergonomically in one hand, the EX80s compact form factor is the perfect balance between productivity and mobility. At 1.14" inches thick, the tablet is equipped with a host of advanced features to keep you productive wherever you go.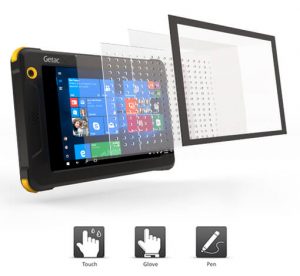 LumiBond® 2.0- Better, Brighter, Stronger
Responding effortlessly to your every touch, our revolutionary LumiBond 2.0 touchscreen technology bonds the display glass with the touch panel and LCD, creating a single panel that is more durable and readable, and offers better contrast and more crisp colors than any other rugged display. It features several touch modes that allow operation in the rain, with gloves on, and using the included hard-tip stylus, ideal for capturing signatures and taking more precise notes on drawings, maps, or forms.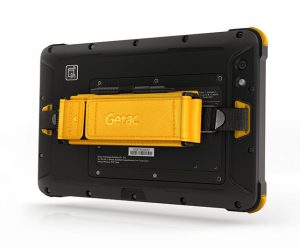 Convenient Carrying and Mounting Options
A multi-function, rotatable hand strap is included, while shoulder straps and an office dock are available for a variety of usage scenarios.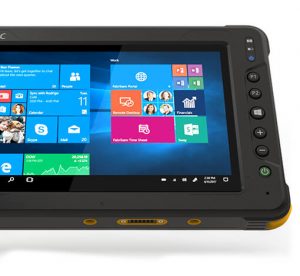 Superior Battery Runtime
With the best runtime performance in its class, the EX80 delivers over 8 hours of battery life on a single charge. A charging dock is included.
Seamless Connectivity
The EX80 comes standard with Wi-Fi, Bluetooth, and dedicated GPS for faster location positioning. Optional 4G LTE cellular data delivers exceptional coverage, download, and upload speeds with fewer dropouts.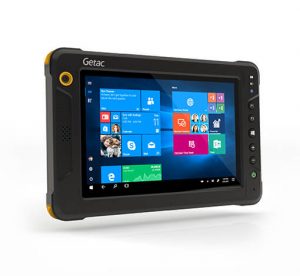 Convenient Data Capture
An HD webcam and rear 8 MP camera with autofocus and LED flash make image and video capture, video conferencing, and field training easy and convenient.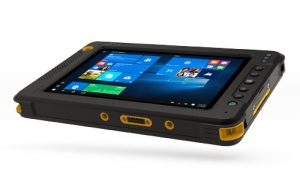 Security
Experience a robust suite of security features, including multi-factor authentication, to protect against malicious threats and intrusions.
TPM 2.0
A powerful anti-tampering device that checks for any signs of intrusion during system boot-up.
Absolute DDS
Disables your EX80 if it detects an unauthorized or compromised entry.
Windows 10 Security
The EX80 features support for Microsoft's latest authentication tools, including Microsoft Passport.
RFID Reader
Authenticate your credentials via Near Field or Radio Frequency transmission.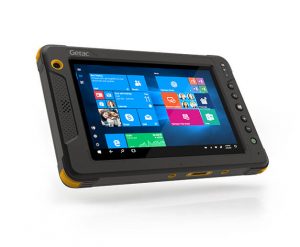 Built to Survive
Only Getac manufactures rugged tablets down to the chassis. The EX80 was engineered to protect the tablet against drops, shocks, spills, vibration, dust, liquid, and more. The EX80 has been independently tested and certified to MIL-STD-810G, and IP67 standards.
Standard 3-year Bumper-to-Bumper Warranty
Nothing says quality like a manufacturer standing behind their product. We've designed the EX80 from the inside out to survive drops, shocks, rain, vibration, and more. We're confident in our quality and that's why the rugged EX80 comes standards with a 3-Year bumper-to-bumper warranty. It's the peace-of-mind protection of knowing you're covered.
Covers everything
Getac's warranty includes all major system components.
Accidental Damage
Getac's warranty includes coverage for accidental acts and exposure to environmental conditions.
Genuine Parts
Getac's warranty repairs are carried out by expert technicians using Getac original production parts.
1 For full details of the warranty protection, see the terms and conditions.
*Images shown are of beta devices that may appear slightly different than production models.
ATEX / IECEx / UL913 Certifications
ATEX/IECEx
EX II 1 GD
Ex ia op is IIC T4 Ga
Ex ia op is IIIC T135ºC Da

UL913
Class I, Zone 0, AEx ia op is IIC T4 Ga
Class II, Zone 20, AEx ia IIIC T135ºC Da
Class I, Division 1, Groups A, B, C, D
Class II, Division 1, Groups E, F, G
Class III, Division 1
Ruggedness
MIL-STD 810G and IP67 certified
Vibration, drop, temperature & humidity resistant
Salt-fog resistant
Operating System
Windows® 10 Pro
CPU
Intel® Atom Processor x5-Z8350 Processor 1.44GHz, burst up to 1.92 GHz
2MB Cache
VGA Controller
Intel HD Graphics
Display
8" IPS TFT LCD WXGA (1280x800) 600 NITs
LumiBond® 2.0 sunlight readable display with multi-touch technology
Security
TPM 2.0; NIST BIOS compliant;
Contactless HF RFID reader
13.56 MHz HF RFID (ISO 14443 – (A,B), MIFARE, ISO 15693)
Optional Absolute™ software
Communications
Dual Band 802.11a/b/g/n, Bluetooth (v4.0);
Dedicated GPS;
Optional 4G LTE multi-carrier mobile broadband with CA2
Keyboard
Six tablet buttons: Power, Windows, Programmable x 2, Volume Up & Volume Down
Camera
FHD (1920x1080) webcam x 1,
8MP auto focus camera
Power
Charging Cradle
AC adapter (24W, 100-240VAC, 50 / 60Hz);
Li-Ion battery (7.4V, 4200mAH)
Dimensions and Weight
9.4" x 6.1" x 1.14" (240 x 155 x 29mm)
3.26lbs (1.48kg)††
Temperature
Operating Temp: -5.8° F to 122° F / -21°C to 50°C;
Storage Temp: -40°F to 160°F / -40°C to 71°C;
Humidity: 95% RH, non-condensing
I/O Interfaces
Docking port x 1
Warranty
3 Year bumper-to-bumper warranty standard‡
Specification subject to change without notice.
1 Computers configured with a 32-bit operating system can address up to 3GB of system memory. Only computers configured with a 64-bit operating system can address 4 GB or more of system memory.
2 Data plan required. Cellular data is available in the US on Verizon Wireless and AT&T networks. LTE is available in select markets. Check with your carrier for details. 4G LTE configuration must be ordered at time of purchase.
† For storage, 1GB = 1 billion bytes; actual formatted capacity less.
†† Weight varies by configuration and manufacturing process.
‡ 3 year bumper-to-bumper limited warranty standard. For warranty terms and conditions visit www.getac.com
Talk through your purchase with an expert
Need a hand in selecting the right product for your business? Schedule an appointment with me. We'll discuss the challenges you face, what you're looking for, and the laptop or tablet that would best suit your needs.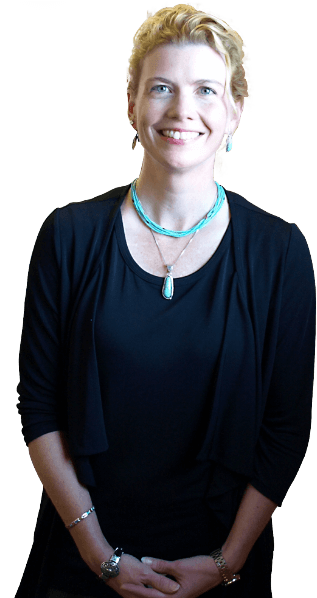 LEARN HOW our hardware and software solutions can increase sales, compliance, profitability, and quality.